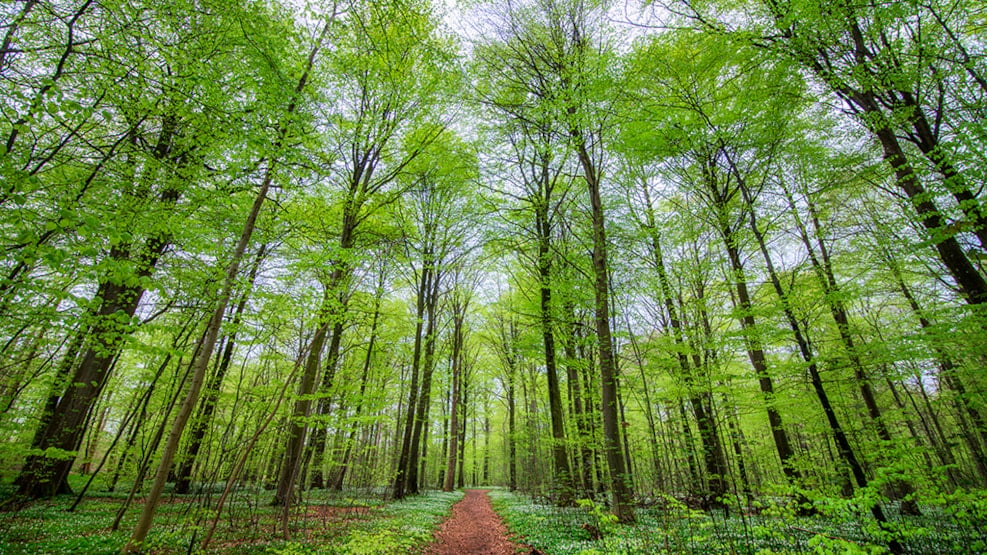 The Boller and Bjerrelide area
South of Horsens, you'll find an area with a high concentration of forests, perfect for excursions with a variety of activities. These natural areas are like pearls on a string, worth a visit on their own, but can also be combined for a larger outing.
Forests and hills south of Horsens Fjord
If you're a nature enthusiast, treat yourself to a trip to the area around Boller and Bjerrelide. Here, you'll discover a vast natural and forested area waiting to be explored. Follow the hiking or biking trails in the area or create your own route through the surroundings. Either way, you'll encounter fascinating forests and attractions as you wander. Follow text links for more information or use the digital map on your smartphone.
Boller Forest – Castle park and bathing bridge
Boller Nederskov Forest is located immediately south of the fjord. It is a popular destination for locals due to the beautiful castle park at Boller Castle. The forest stretches all the way to the water's edge, where there is a nice newly built bathing bridge accessible to everyone. A marked trail in the forest, covering a distance of 3.2 kilometers, is indicated by yellow arrows and dots. This route is a side path to the popular hiking trail, the Fjordmino, which also passes through the forest. The 3-kilometer-long Planet Path connects the forest to the city of Horsens.
Klokkedal
Klokkedal is a long, narrow forest located in a meltwater valley, just a short distance south of Boller Nederskov Forest. A beautiful trail at the bottom of the valley follows a stream with forested hills rising on both sides. It is a highly recommended hike. A marked hiking route with yellow arrows connects Klokkedal to Boller Nederskov and Boller Overskov. The hike is seven kilometers long.
Boller Overskov and Tyrstedlund Nature Park
From Klokkedal, you can follow the marked route to Boller Overskov Forest. There are only a few hundred meters between the two forests. Boller Overskov is popular among dog owners due to the 2.9-hectare enclosed dog forest.
Adjacent to Boller Overskov is the newly established Tyrstedlund Nature Park, serving as an inspiration park for biodiversity and a green oasis for the residents of the Højvangen neighborhood.
Rold Forest
To the west of Klokkedal lies Rold Forest, a small but incredibly charming and idyllic woodland. In the middle of the forest, there is a lake where carp swim among water lilies throughout the summer. The forest is intersected by several streams and ditches, and a fishway has been created to allow trout to pass by the lake. There is a shelter in the forest that is free to use, and wild camping is permitted.
Bjerre Forest
The largest of the area's woods is the hilly Bjerre Forest located on the ridge of Bjerrelide. Bjerre Forest is renowned for having one of Denmark's longest and best mountain biking trails. The mountain bike trails cover a significant portion of the forest, but there is still plenty of space for safe hiking. An asphalt road runs through the middle of the forest. On the opposite side of the road from the mountain biking trails lies Naturskoven, where the forest remains untouched by human activity. In Naturskoven, a marked route passes by the lake Elverdam, where fishing is allowed.
In the southern outskirts of Bjerre Forest lies the wetland area Bjerre Meadow Lake (Engsø), which is also worth a visit when you explore Bjerre Forest.
Immediately west of Bjerre Forest, one of Denmark's largest hills rises in the landscape. Purhøj reaches its peak at 120 meters and offers a fantastic view of Horsens. On clear days, you can see all the way to Aarhus and Fyn.
Kærskoven and Dallerup Forest
A bit west of the main cluster of forests, you can visit these two woods, which are directly adjacent to each other. In Kærskoven Forest, there is a small lake called Latsø, where you can find tables, benches, and a fire pit. Wild camping and a dog forest are also available in Kærskoven.
You can explore Kærskoven and Dallerup Skov on a marked circular route of 6.5 kilometers with red arrows or take a shorter hike in Kærskoven of 2.3 kilometers with blue arrows.
Follow trails in the forests on a digital map
On this digital map, you can navigate the trails in the mentioned woods using your smartphone. The map also displays parking options.
Destination Kystlandet © 2023