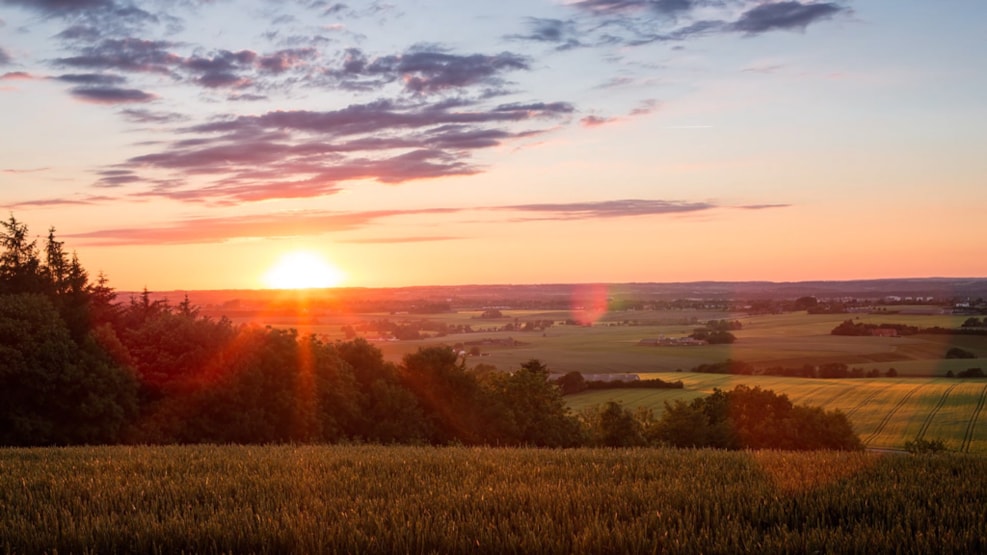 Purhøj
Purhøj is one of Denmark's biggest hills with a summit 121 metres ASL. The hill can be seen 40 kilometres away, has an interesting history and a beautiful view of Horsens Fjord.
A breathtaking view of Eastern Jutland
The ridge named Bjerrelide southeast of Horsens offers several great nature experiences and vista points. The highest point in Bjerrelide is the distinctive hill Purhøj with an elevation of more than 70 metres from the base to the peak. From the peak you have an impressive view of the flat landscape directly north of the hill. From here, you can easily spot Horsens and Horsens Fjord. On a day with perfect weather conditions, you can see all the way to Aarhus to the north and the island of Æbelø north of Funen. Purhøj is located two kilometres from the southern outskirts of Horsens and seven kilometres from the city centre.
The summit of witches
Purhøj has a characteristic peak with a circle of beech that is visible from afar. Most inhabitants in the local area will recognize the sight of the lonely trees at the top of the hill. The circle of trees is placed around an old burial mound from the Early Stone Age. Sadly, the burial mound has been excavated over the years and all that remains is a low, circular embankment. In the area, several archeological excavations have resulted in findings of spearheads, and just east of Purhøj, a large burial site has been excavated resulting in many findings. You can see some of them at Horsens Museum (free entrance).  
According to legend, Purhøj was a rallying ground for witches and trolls at Walpurgis night where witches were transported to Purhøj by succubi.
Gallows Hill
A short distance from Purhøj, you can find Gallows Hill (Galgebakken) with a peak 111 metres ALS. As the neam implies, Gallows Hill has a dramatic history as criminals and murderers were executed here. Here, thieves were hanged with their swag on their backs and murderers decapitated in public. The last execution was carried out in 1856 when Søren Bundgård Rasmussen was sentenced to decapitation and having his head put on a stake for murdering a 14-year-old girl.
Explore Bjerrelide
In the area around the ridge Bjerrelide, there is a series of forests and nature experiences waiting to be explored. In the big nearby Bjerre Forest which is known for one of Denmark's longest and best mountain bike trails it is quite hilly and there are good options for hikes. Also consider going for a walk through the forested valley Klokkedal and visiting the beautiful castle park at Boller Castle.
More hills in the Horsens area
Many of Denmark's biggest hills are located in close proximity to Horsens. Find inspiration for your next ascent here. 
Destination Kystlandet © 2023