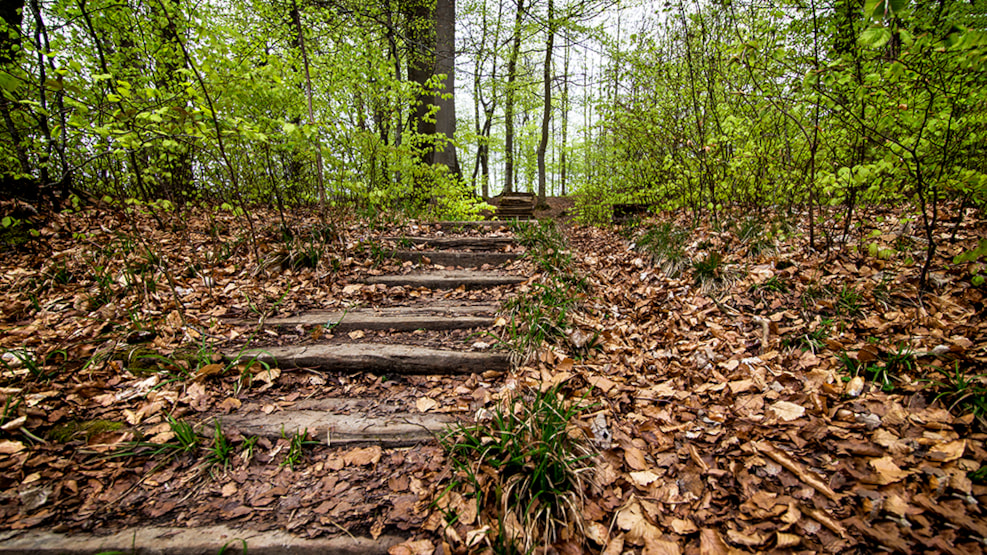 Klokkedal
There are only few places in Denmark where you can feel as embraced by nature as in Klokkedal near Horsens. This elongated forest has a beautiful path following a stream at the bottom of a valley with nature towering up on both sides. The area is perfect for short hikes and excursions.
On an excursion in nature near the centre
In the area called Boller and Bjerrelide, there are a series of lovely nature areas.  There are several hills and forests in the characteristic landscape in the southeastern outskirts of Horsens. One of the gems in the area is Klokkedal which is squeezed in between the forests Boller Nederskov, Boller Overskov and Rold. Klokkedal Forest is a particularly elongated forest running along the Klokkedal Stream. Klokkedal (can be loosely translated as bell valley) was created as a subglacial valley during the Last Glacial Period, which has created steep wooded slopes on both sides of the stream. The forest is 2,5 kilometres long, and along the stream in the bottom of the valley, there is a wide path, that runs through some of the most beautiful nature around Horsens.
Explore Klokkedal
If you arrive to Klokkedal by car, you can head to the northern edge of the forest where there is a fine parking lot. The parking lot is wayposted on Bollervej and can be found in direct connection to Boller Watermill (Vandmølle) which was built back is 1873. The mill is no longer active but still well-preserved and idyllic with red painted half-timbering. Alternatively, you can park at the southern end of the forest on Klokkedalsvej.
If you want to go on foot or by bike, we recommend that you follow the red signs of the Fjordmino (the Horsens Fjord Path). Via the Planet Path you will follow the coast to Boller Forest and Castle. From here you follow Boller Slotsvej inland to Bollervej where Klokkedal starts on the other side of the road.
On a hike through the forest
In Boller Nederskov Forest you will find the start of the waymarked hiking route, the Klokkedal Route (Klokkedalruten) which leads through both Klokkedal and the adjacent Boller Overskov Forest on a seven-kilometre-long roundtrip. It is a beautiful and recommendable trip through the hilly, forested landscape.
Alternatively, you can choose to walk all the way through the bottom of the valley and back. This trip is 2½ kilometres in each direction.
You can follow the routes through the forest via the Coastal Land digital map (Google Maps).
Visit other nature areas around Horsens Fjord
Many lovely nature experiences await around Horsens Fjord. Find inspiration for your next trip on this page.
Destination Kystlandet © 2023