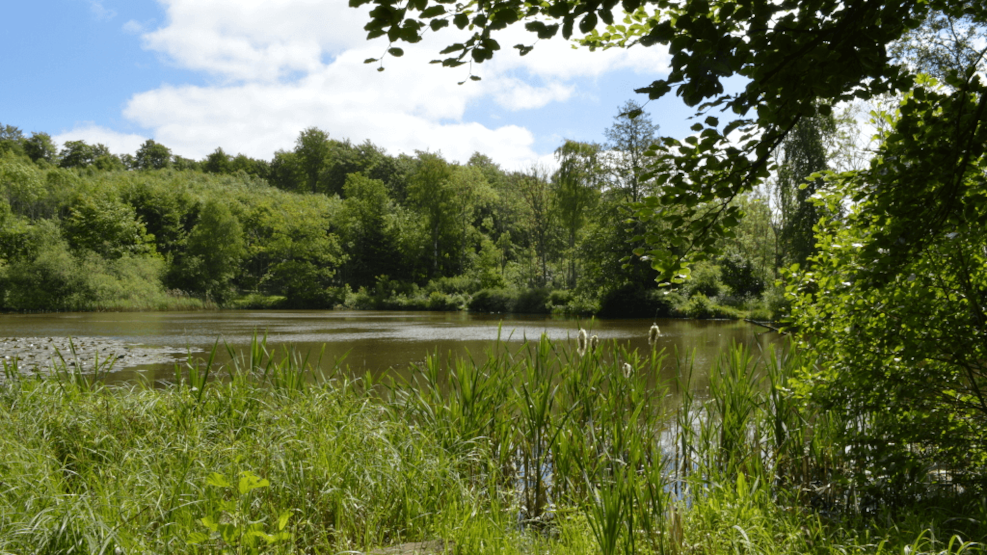 Fishing in Lake Elverdam in Bjerre Forest
The Nature Forest
 A hike of two kilometers from the parking lot at Bjerre Skovvej along the brook to "Elverdam", a beautiful forest lake, which was artificially made in the beginning of the 1940's. In Elverdam it is possible to catch pike. The governmental fishing license required, but no special license for this specific location. There is a campfire and tables and benches on the shore, which makes a stay possible.
See a map of the hike and the nature forest.
Bjerre Forest
Bjerre Forest is a mixed deciduous and coniferous forest in a very hilly terrain. The many protected barrows gives a testimony of, how important the area has been for centuries. In all of Bjerre Forest, you may walk, day or night, everywhere outside the fenced areas and on all roads and paths if you're on bicycle. East of the nature forest, there has been established a route for mountainbikes. Dogs are also welcome if they are on a leash, in regards to the animals of the forest and other guests of the forest. Free fishing in lake Elverdam in Bjerre Forest.
Destination Kystlandet © 2023