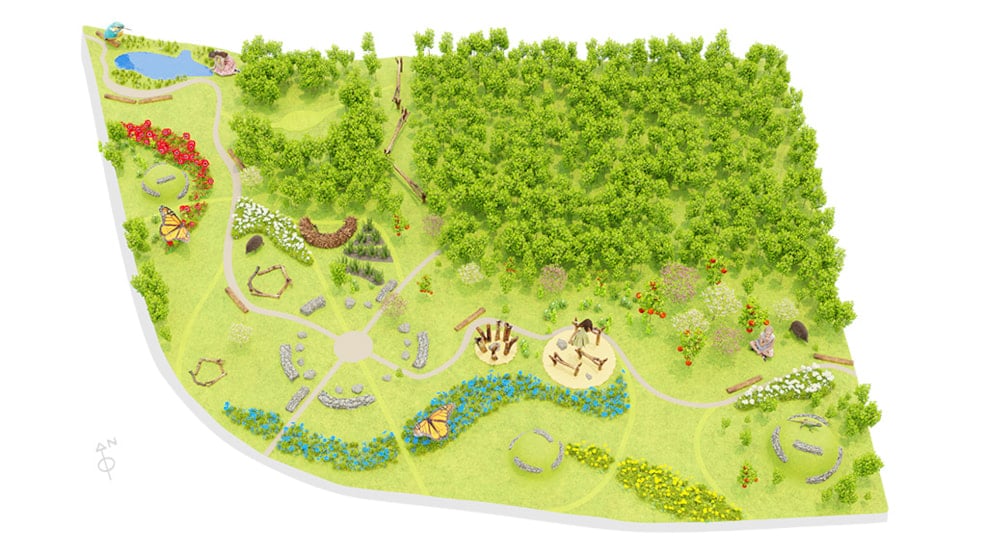 Tyrstedlund Nature Park
In the southern part of Horsens, you will find this new park, which offers wonderful natural experiences for everyone. The park serves as a kind of experimental laboratory for biodiversity, where you can get inspiration for your home garden and teach children to take care of nature and wildlife.
Biodiversity park in scenic surroundings
In the quiet residential area of Højvangen, surrounded by Boller Overskov, lies this new park, which is perfect for walks, enjoying nature in peaceful surroundings, and not least learning more about insects, nature, and plants. For Tyrstedlund Nature Park, it is not just a green area for the benefit of the city's residents and guests, but it is also a home for a wide range of species - a place where it crawls and creeps for the benefit of our environment.
The park is also a place where you can find inspiration for what you can do to increase biodiversity in your own yard or garden and thus create better living conditions for insects, birds, hedgehogs, and more.
What you can experience in the park
The 80,000 square meter biodiversity park is designed with gravel paths, making it possible to get around everywhere. Most of the park is located in an open meadow area, but part of the park also ventures into the adjacent Boller Overskov.
The park has, among other things, five different flower meadows, which, in addition to decorating the park, also act as a delicious buffet for insects and birds. A number of stone walls serve as habitats for several different species.
In the northwest corner of the park, a pond has been constructed where you can observe frogs, insects, and salamanders. There is also a roofed picnic spot close to the lake. Feel free to use it, but please be aware that it might bee booked by schools or associations. A path leads through the forest, where space has been made for forest bathing - the opportunity to just sit in silence and enjoy nature and all its sounds. Here, there is also a 20-meter long pile of branches and twigs that provides food and shelter for insects.
In the middle of the park, a forest garden has been created with edible berries, flowers, and herbs. You are welcome to harvest some for your own use, but remember to share with the birds.
Combine with a forest walk
There is no actual parking lot adjacent to Tyrstedlund Nature Park, but you can park in the residential area - for example, at Peder Kællers Vej. Alternatively, there is a parking lot at Boller Overskov, a few hundred meters from the park. We strongly recommend combining your trip to the park with a walk through the forest. And feel free to bring your dog - there is a nice dog forest in Boller Overskov. A sign leads to the parking lot from Nordrevej.
In the forest, you can follow the yellow signs that belong to the Klokkedal Hiking Route. This route connects Boller Overskov with the highly recommended neighboring forests of Klokkedal and Boller Nederskov. On the trip, you will pass by Boller Watermill and Boller Castle and get close to the bathing jetty in Boller Nederskov.
More gardens and parks in The Coastal Land
The Horsens area offers many beautiful green oases. On this page, you can find inspiration for your next excursion.
Destination Kystlandet © 2023