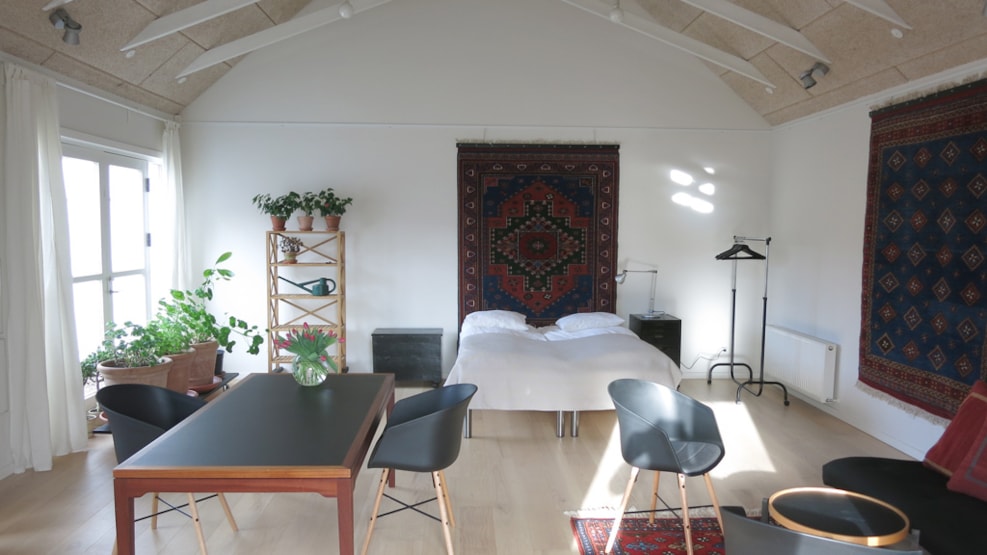 Guest House B&B (Gæstehus B&B)
This bed & breakfast is situated in the idyllic village of Haldrup near Horsens and isideal for accommodation during hikes around Horsens Fjord. The house serves as a delightful base for a comfortable and relaxing holiday. Here, you'll encounter a homely atmosphere, comfortable amenities, and a friendly host.
Private accommodation near Horsens Fjord
In peaceful rural surroundings lies the village of Haldrup, characterized by thatched timber-framed houses and complete tranquility. In the heart of the village, there is this guesthouse with its own entrance and excellent amenities. The house is not far from Horsens, conveniently connected to Haldrup through a bus service right outside the door.
Facilities
The guesthouse is located adjacent to a private residence, where your hosts Birte and Bent live. The guesthouse has its own entrance and terrace, comprising a large bright room and a bathroom. It is furnished with a double bed and a futon sofa with space for 2 people.
Inside the room, there is a refrigerator, microwave oven, kettle, coffee, and tea. Free Wi-Fi and excellent parking facilities are available.
You are welcome to use the forest garden, which features several paths, benches, a bonfire area, and access to a nature trail through a gate at the bottom of the garden. There is plenty of space here for children to play.
The hosts speak German, English, and French.
A Good start to the day
As you know, the second 'b' in B&B stands for breakfast. When you book accommodation at Guesthouse B&B, breakfast is included in the price. The breakfast consists of freshly baked bread and rye bread, butter, homemade jam, cheese, soft-boiled eggs, juice, and coffee/tea. During the season, there is also the possibility of fresh fruit and berries from the kitchen garden. Breakfast can be served in the guesthouse or in the courtyard.
Book your stay
Are you ready to book your stay near Horsens Fjord? Then follow this link to make your reservation via Airbnb.
The accommodation price is 650 DKK per night. If an extra bed is desired, it costs 250 DKK. The price includes breakfast, bed linens, and towels.
Experiences nearby
Horsens is approximately 8 kilometers away from Haldrup. You can drive, hike along the trails, cycle, or take bus 306, which connects Horsens and Odder with a stop near the guesthouse. Here, you can take advantage of the city's excellent shopping opportunities and its many dining establishments. Gæstehus B&B is located near several hiking and cycling routes, including the popular hiking route around Horsens Fjord, the Fjordmino, The Railway Path Horsens-Odder, and National Cycle Route 5. Gæstehus B&B serves as an excellent accommodation for travelers on these routes.
Haldrup is very close to Stensballe Forest and the Stensballegaard Golf Club, which has been named the world's best newly constructed golf course. In Haldrup itself, you can visit the garden attraction The Creative Garden (Den Kreative Have) which has been crowned Denmark's most beautiful garden multiple times.
On this page, you can find inspiration for experiences around Horsens Fjord.
Destination Kystlandet © 2023