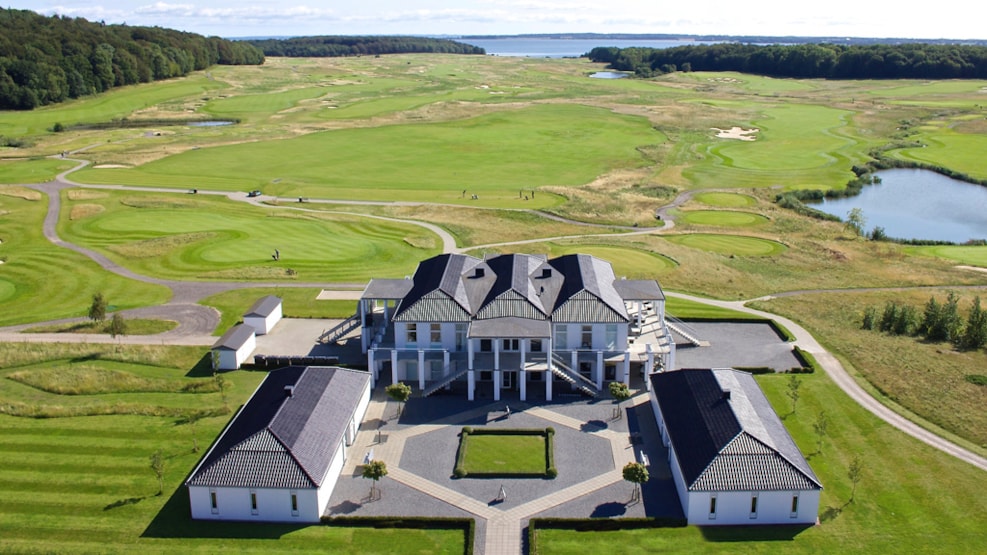 Stensballegaard Golf Club
This internationally acclaimed 27-hole golf course, that won the award for best new golf course in the world in 2010, is located beautifully between the forests of Horsens Fjord. Try golfing for the first time on the lovely pay & play course.
Golf course with an international appeal
At the edge of Horsens, in connection to the manor Stensballegaard, you can visit this golf course that is designed by some of the world's most acknowledged and established golf course architects. With an incredible view of Horsens Fjord and surrounded by the forests of Stensballe, you can look forward to a visually stunning experience.
At Stensballegaard they love guests – and it is easy for you to try the golf sports here for the first time without the cost of an arm and a leg.
The prize-winning course
The golf course at Stensballegaard consists of three slopes of 9 holes. The slopes are rotated weekly, so you can come back to a new 18 hole and 9 hole golf course each week. The American architectural firm of Von Hagge, Smelek & Baril created the course aiming to create great golfing experiences for players of all levels.
Stensballegaard was awarded the world's best new golf course in by GolfINC.
A 9-hole pay & play course
A 1.200 m2 putting green
A large driving range with an amazing view
Practice areas next to the clubhouse and driving range
Try golf at an affordable price
The Stensballegaard golf course is locates scenically in hilly terrain. For only 125 DKK you get access to the course for a fun and memorable experience with your family, friends or family. If you do not have equipment yourself, you can rent it for 50 DKK, balls included. Make sure to book equipment in advance by contacting Stensballegaard Golfklub via mail.
If golf is new to you, and you want to bring an instructor to the golf course, you can purchase a 'golf for alle' package if you are at least for players. The package gives access to the par-3 course, one hour of instruction, and equipment.
Golf and good food
Restaurant Griffenfelds is located in the clubhouse. Here, you can combine golfing with a good meal or a cold refreshment on the lovely terrace. The restaurant offers delicious dishes for lunch and dinner. You should also try the popular brunch for a good start of the day.
Stay a bit longer – enjoy a golf stay
At Stensballegaard you can book accommodation in a beautiful old half-timbered house (the tailor's house) only 500 metres from the golf course. You can book a package including accommodation, fee access to the golf course and a table at Restaurant Griffenfelds. Alterntively, Stensballegaard cooperates with the local hotels about golf stays.