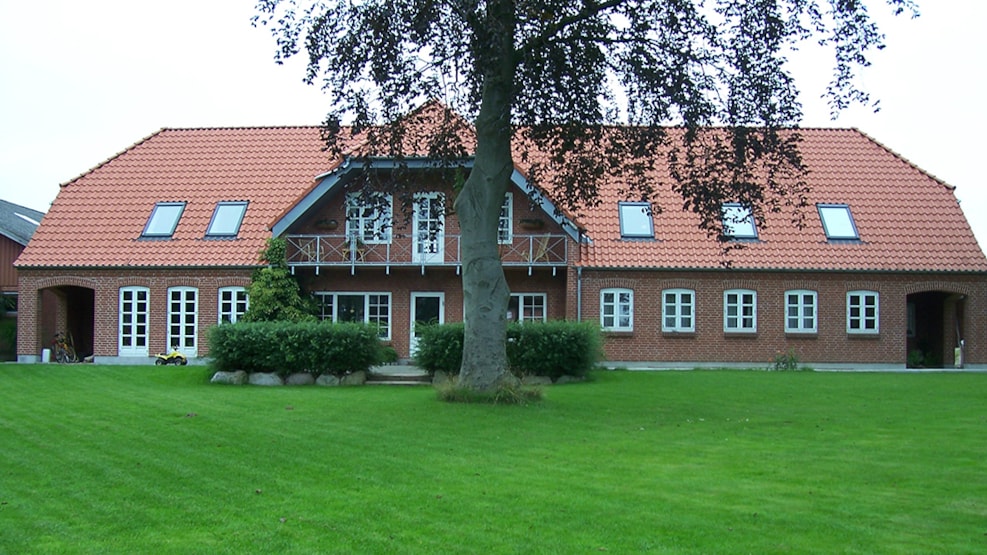 Nygaardferie
Enjoy the rural idyll on a charming Danish farm and spend the night in lovely apartments with fine facilities. Enjoy a relaxing holiday surrounded by lots of cute pets and farm animals.
Farm holiday in Eastern Jutland
Deep in the countryside but still just 10-15 kilometres from Horsens, Vejle and Juelsminde, you can experience genuine farm atmosphere and lots of peace and tranquility. On an old family farm from the 18th Century, Randi and Per live as farmers focusing on creating a cosy setting. There are many different species of hobby animals here that help create joy and life at the farm. And you have the chance to experience the unique rural atmosphere by spending a night in one of the spacious and well-equipped apartments with room for the whole family.
The apartments
Nygaardferie have six apartments at their disposal. Three of them are located in one wing of the farm. These apartments are 80 m2 with six beds in two bedrooms. They all have their own kitchen and bathroom and a large living room with a dining area. And they each have a terrace and access to the garden facilities. Two of the apartments come with a bed loft and one has four bedrooms.
Furthermore, there are three other apartments in an apartment further up the road. These are 80, 90 and 120 m2 respectively – all with kitchen and bath but otherwise different facilities.
During high season, the apartments can only be booked for one week at a time. The rest of the year you can book for any number of days.
The animals
The many farm animals will surely please the youngest members of the family. You can have a chat with sheep, cows, chicks, ducks, geese, turkeys, rabbits, goats, pigs, roe deer, horses and more. During the summer period, Nygaardferie uses incubators, so guests can follow the birth of cute little chicks as their eggs hatch.
There are also great physical surroundings for play and games in the large garden. Feel free to use the football field, swings, trampolines, moon cars, the playhouse and the fire place.
Experiences nearby
The village Hornum is located in the middle of the Juelsminde Peninsula at the ridge called Bjerrelide. From here you are not far from the local cities, marinas, beaches and nature attractions. Feel the harbour atmosphere in the summer resort Juelsminde, go shopping in Horsens, take the ferry to island experiences from the ferry port in Snaptun or explore the forested north coast of Vejle Fjord.
It is also easy to get to the highway and the biggest attractions of the region.
Destination Kystlandet © 2023