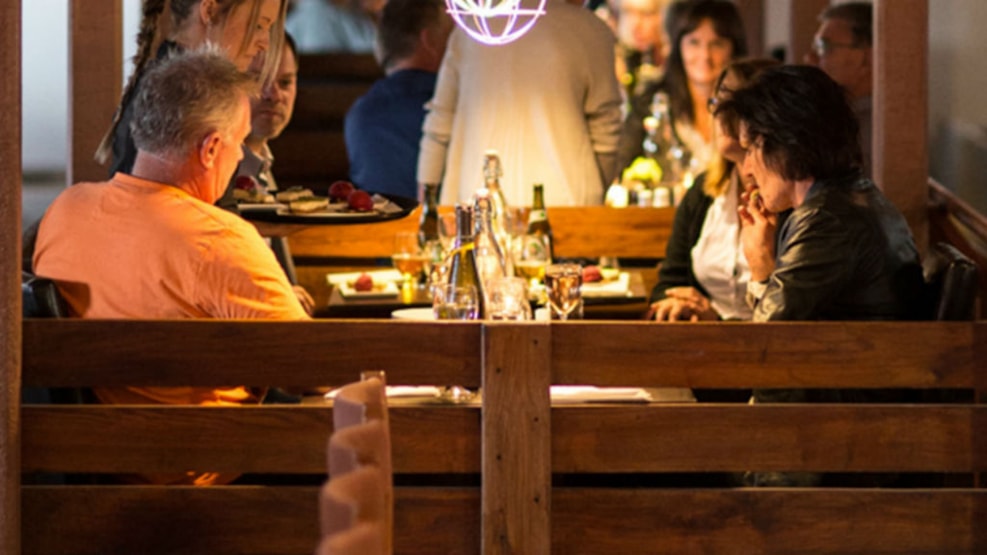 Møllegården
On the idyllic island of Alrø in Horsens Fjord, you can enjoy delicious meals for lunch or dinner or a cup of afternoon coffee with cake at this idyllic and unique restaurant. With a unique setting in a former pig house, it is recommendable to have a break at Møllegården when visiting Alrø.
Delicious food in unique surroundings
This unique eatery is located in the centre of the cosy island Alrø. Here, you can enjoy lunch or dinner in an old rural pig house. The stalls are left as they were when they were still inhabited by pigs. The pigs are replaced by well laid tables and restaurant guests, though. There is a particularly cosy atmosphere in the spacious and authentic restaurant, and you can look forward to culinary pampering whether you come for home baked caked and coffee or a three-course dinner.
Everybody is welcome at Møllegården – the restaurant is well-suited for families.
The food
The food at Møllegården is Danish, classic, delicious, and always made with quality ingredients. You can choose between a selection of well-known Danish classics for lunch and dinner, cooked by skilled chefs who can arrange beautiful courses and provide taste experiences that you cannot copy at home in your own kitchen.
The menu changes from season to season but you can always enjoy Møllegården's shooting star (popular Danish fish dish), fried beef tartare as well as a selection of other lunch dishes.
For dinner you can choose a 1-4 course dinner with a starter, main course, cheese, and dessert.
There is also a children's menu with child-friendly favourites.
Come in for afternoon coffee
Combine the island experience with a good cup of coffee and Møllegårdens home-baked cake. There is a new cake available every day as an alternative to the pretzel-shaped Danish pastry that you can enjoy daily. Coffee and cake is on the menu 2-4 pm.
Opening hours and table reservation
Møllegårdens opening hours vary from season to season. Please be aware that the restaurant can be closed due to parties. In the calendar on Møllegården's website, you can see when the restaurant is open each day. Here, you can also fill in the form for table reservation, and you are always welcome to call Møllegården on +45 86552083 to book a table.
About Alrø
You do not need to travel by ferry to get to Alrø. Alrø is connected to the mainland via a dam on the north side of Horsens Fjord.
There is a special rural atmosphere on Alrø with many idyllic half-timbered houses with thatched roofs. A little bicycle ferry sails from the southern tip of the island, making it easy to visit both Alrø and the nearby island Hjarnø on the same day.
Destination Kystlandet © 2023