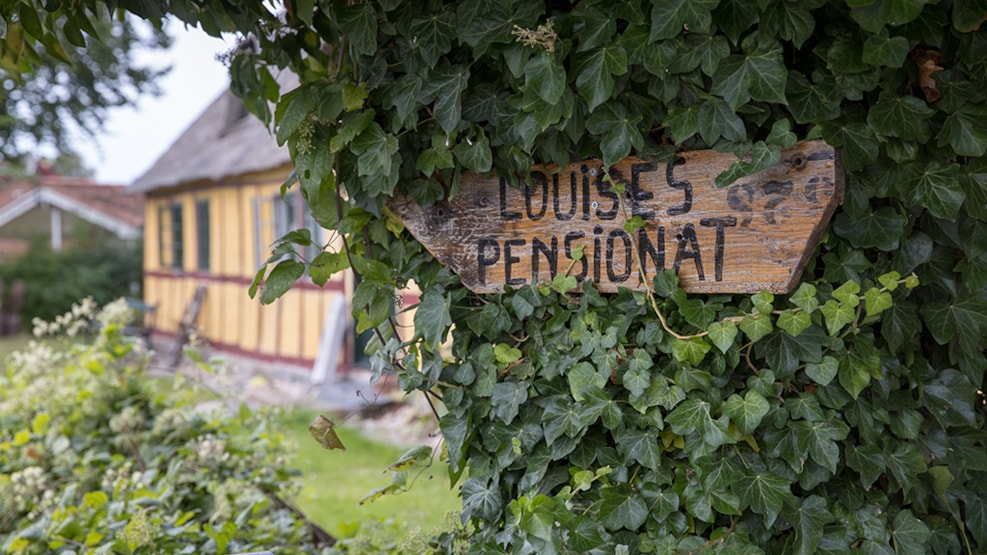 Louise's Guesthouse (Pensionat)
Stay in in this charming, half-timbered house from 1777, centrally but peacefully located on the holiday island Endelave. Book one of the four double rooms and unwind while enjoying the unique holiday atmosphere.  
The perfect base for your island getaway
Would you like to experience the unique, preserved nature of Endelave, the wild rabbits, and the charming village? Then book a night at Louise's Guesthouse and feel how time stands still on Endelave where you can easily relax and unwind.
Louise's Guesthouse is centrally located on Kongevejen near the harbour and only a few hundred metres away from a bathing beach. From here, you are very close to the island's attractions and eateries – they are all located in the Endelave Village.
Facilities
The hundreds of years old limewashed half-timbered house has four double rooms for rent. One of these serves as a family room with an option of an extra bed. A lovely homemade breakfast with locally produced island products, access to a shared living room with a TV, and access to a large garden with a patio is all included in your stay. There is a playing field and a playground on the other side of the road.
Tea, coffee and wi-fi is also free for all guests.
Hospitality and accessibility are important for the owners of Louise's Guesthouse – all rooms are on the ground floor and developed focusing on the needs of families and those with disabilities.
Booking and prices
Are you ready to book your stay in a historic setting on Endelave? Contact the owner Claus Holm at claus.holm6@gmail.com or +45 26 82 95 07 with your enquiry.
Prices including breakfast and linen:
1 person: 450 DKK
2 persons: 750 DKK
Extra bed (breakfast included): 350 DKK
About Endelave
Danish island of the year 2021/22 Endelave offers many lovely experiences. Go for a walk on the popular hiking route, the Kanino, that leads all the way around the island. Alternatively, you can rent a bicycle or a golf cart at the harbour. Along the way, you will pass the preserved nature area Flasken, the unique nature in the area Øvre, tall bluffs, and fine bathing beaches. In the village, you can visit the island's eateries and stores with locally produced products. You can learn about the many exciting herbs growing naturally on the island at Endelave Medicinal Herb Garden. And at the seaweed farm you can buy interesting seaweed products or even go on a seaweed safari.
You can read more about experiences on Endelave on this page.
Destination Kystlandet © 2023