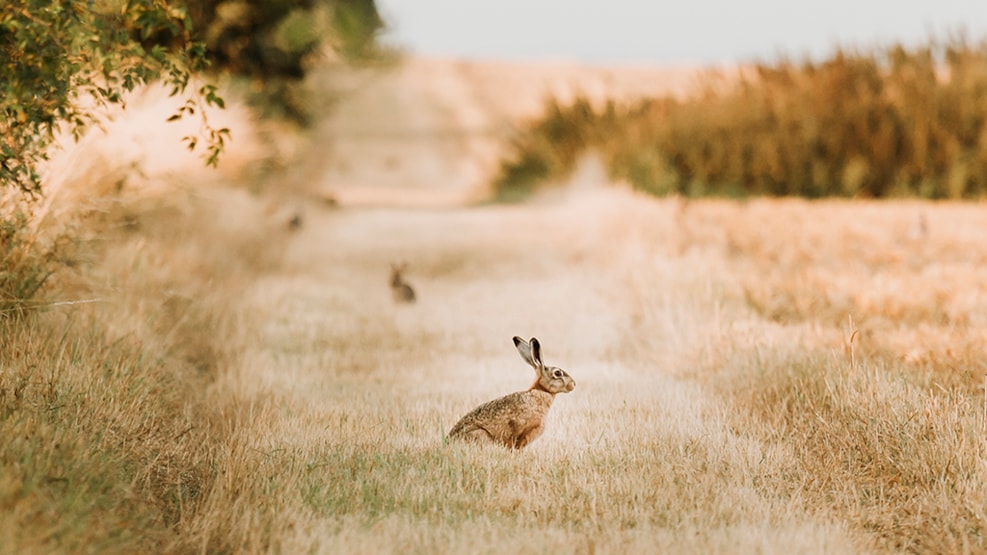 The Kanino
On this beautiful hiking route, you will walk all the way around the island of wild rabbits, Endelave. Experience the enthralling nature on the cosy holiday island and spot the many rabbits along the way. 
The land of the rabbits
Endelave is the island of rabbits. Thousands of wild rabbits inhabit the little holiday island east of Horsens. This 21-kilometre-long hiking route takes you past several of their habitats as well as the most significant nature experiences on the island. The likelihood of seeing Endelave's furry mascot live is quite good. En route you will walk through the more remote parts of the island through preserved nature, away from the island's village and harbour, where the rabbits especially roam. 
On a hiking trip at the coast
The majority of the route around Endelave is places close to the coastline. Along the way, you can see all the way to the mainland and the islands of Æbelø, Samsø, Funen and Tunø - and in perfect weather conditions even to Sealand where Copnehagen is. Another strength to the route is the animal life. You will likely see birds, deer, pheasants, wild rabbits and seals. 
The route starts and ends at the harbour where you get off the ferry. From the harbour, you head west to Kloben and Klinten (a cliff) on a sand and rock surface. On the southside of the island you head east past the tip in the landscape, Lynger Hage, on a social trail. On the east coast youwalk nothwards  on gravel roads to the northern tip of the island where a nice sandy beach awaits. From here, you head towards the harbour on gravel roads and tarmacked roads through the village. On Endelave Strandvej you can see the bird sanctuary, Flasken. 
Is 21 kilometres a bit too much?
Do not despair! You can also try the 12-kilometre-long Mini Kanino or the shorter rabbit route at a distance of 3 kilometres. There are three waymarked routes, so just choose your route colour, follow the signs and go exploring Endelave. 
Download the digital leaflet
Follow this link to download a digital leaflet about the Kanino with a map, information and inspiration for the routes and experiences on Endelave. You can pick up the physical leaflet on the ferry and several places on Endelave.
Inspiration for experiences on Endelave
Endelave offers great eateries, exciting activities and many options for accommodarion. Find inspiration on this page.
Destination Kystlandet © 2023