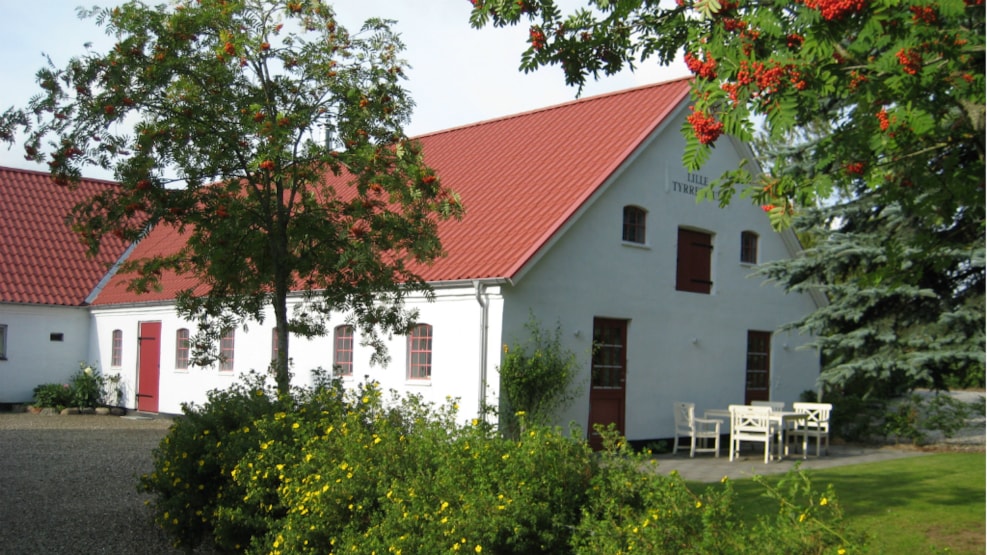 Lille Tyrrestrup
In scenic surroundings northeast of Horsens, you'll find the manor estate of Tyrrestrup. Just outside the estate park, Tyrrestrup offers two options for private accommodation in their guesthouse and a large, beautiful hunter's cabin.
Accommodation in historic settings
Tyrrestrup is an ancient manor with a history dating back to 1438. The estate encompasses several buildings aside from the beautiful main building from 1720. Two of these structures are available for short-term rental. If you're in need of lodging near Horsens, this could be a unique choice in peaceful, rural surroundings where the site's fascinating history is distinctly felt.
Guesthouse
Just north of the stunning manor park sits a cozy guesthouse, furnished with two double rooms featuring excellent amenities. Both rooms come with private bathrooms and access to a terrace. The guesthouse includes a large kitchen/dining area equipped with a refrigerator, stove, microwave, dishwasher, and TV. There's also a utility room with a washing machine and a private entrance to the rooms.
The rooms can be rented individually. If you wish to rent the entire house, this is also possible for an additional fee.
Hunter's cabin
Additionally, it's possible to book a charming wooden hunter's cabin. The cabin is functionally and simply furnished with a combined living/kitchen area, a bedroom with a canopy bed (140 x 200), and a bathroom with a shower. The cabin provides all necessary amenities such as a stove, oven, microwave, kettle, dishwasher, refrigerator, and TV.
Booking and practical information
When you rent from Lille Tyrrestrup, bed linen, towels, and cleaning are included in the price. There's complimentary access to coffee and tea, and it's also possible to purchase breakfast. Both the guesthouse and hunter's cabin have internet access.
The price per night decreases by 100 DKK per night, and the 5th night is free. After that, the standard rate applies.
Contact Lille Tyrrestrup by phone at +45 27 44 38 28 for bookings and pricing.
About the Area
Tyrrestrup is situated in a hilly landscape with alternating fields and forests. Several spots offer a stunning view of Horsens Fjord, located two kilometers to the south. It's approximately 5 kilometers to Horsens – you can take the bus from the village of Haldrup, which is one kilometer to the south.
In Haldrup, you can also access the popular hiking routes the Fjordmino and The Railway Path Horsens-Odder, as well as the Horsens Fjord cycling route. Lille Tyrrestrup serves as a fitting accommodation on the beautiful journey around the fjord.
You can find inspiration for experiences by Horsens Fjord on this page.
And on this page, you can find suggestions for activities in Horsens city.
Destination Kystlandet © 2023