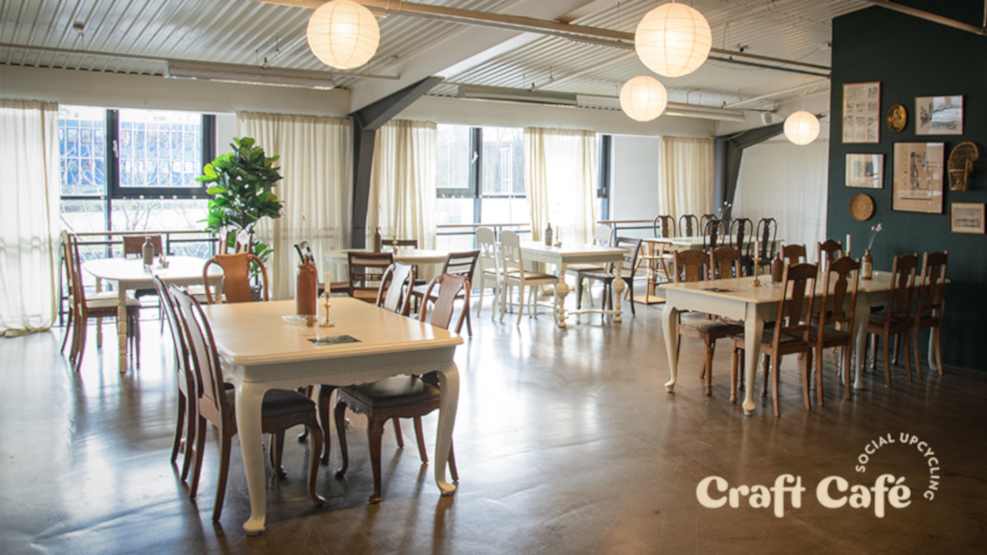 Craft Café
On the first floor at Denmark's biggest second hand store in Horsens you will find this inclusive café with a focus on sustainability. Upcycling is a theme - both regarding the lunch dishes that are made from surplus food, and in the workshops where you can unfold your creativity and bring new life to the residual products of the secondhand shop. 
Social upcycling café
Craft Café is much more than just a classic café. It is a place based on good values protecting our environment. Here, you can come in and enjoy lunch made from surplus food from local stores, or make new clothing, vases, or the likes from residual products.
The café is primarily run by employees who for many different reasons find it difficult to maintain a normal full-time job. The employees are an inspiring mix of different competencies that help create a cosy atmosphere where there is also room for different and unique experiences. You can come in and have a creative day with your children, enjoy a delicious dish from the menu, or simply just enjoy a cup of coffee and the great atmosphere. Here, you will find room for everyone.
Blue Cross secondhand shop is the setting of Craft Café. For this reason, it makes perfect sense that the café's core values are to recycle and reuse as much as possible. Therefore, combating food waste comes natural for them.
Tempting dishes for lunch
At Craft Café you can buy a light meal for lunch or a solid breakfast. The menu offers sandwiches, pie with salad, soup, homemade bread with butter/cold meat.
You can also enjoy a god cup of coffee or tea with a piece of freshly baked cake.
You can see the whole current menu at Craft Café's website.
The menu is not fixed since surplus food is a part of the concept, and you can probably try new dishes at every visit.
Give new life to discarded products
Craft Café gives you the chance to try an upcycling workshop and use your creative skills to transform old clothes into new garment or creating a vase made from potsherds.
In the workshop you pay for a chair for an hour. You will be guided through the process by the personnel. You can see prices and practical information on the website (in Danish).
Twice a week, you can bring your old curtains or clothing to the workshop where Craft Café's skilled seamstress is ready to fix it for you.
Follow Craft Café Horsens on Facebook to stay updated on future events and news.
Opening hours
Craft Café's opening hours follow the opening hours of Blue Cross Secondhandshop. It is open Monday-Friday every week with the exception of holidays.
Find the exact current opening hours on the website.
Blue Cross Secondhandshop
With a whopping 6.800 m2, Blue Cross Secondhandshop in Horsens offers Denmark's biggest selection range of second-hand products. So go for a walk through the many departments and make a bargain among furniture, utility items, clothing, toys, art, music and much more. In the building, there is also a 1.000 m2 flee market called Kræmmerhuset, where private vendors sell their private items in a large number of stalls. So why not combine your hunt for second-hand gold with a meal at the café? There are plenty of parking spaces in front of the main entrance.
Destination Kystlandet © 2023