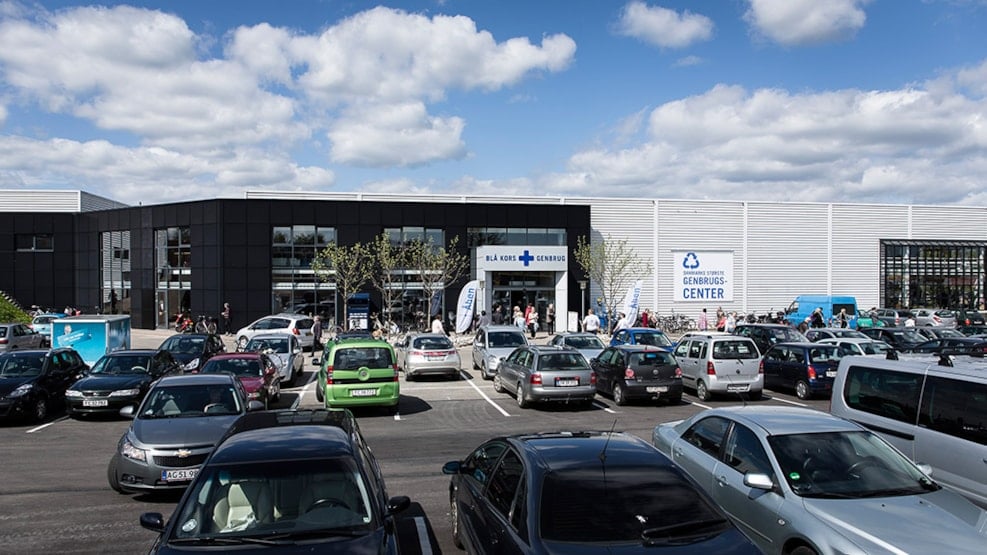 Blue Cross Second Hand Centre (Blå Kors Genbrugscenter)
you enjoy second-hand shopping, it does not get any better than the Blue Cross Second-hand Centre in Horsens. In Denmark's largest second-hand shop, the selection is enormous within all product groups. You are guaranteed to make a bargain.
Shop amok in Denmark's largest second-hand shop
Blue Cross Second-hand in Horsens is not just a second-hand shop. It is a veritable El Dorado of second-hand items and an experience in its own right with its own eatery. Set aside plenty of time for your visit if you want to make it all the way around the store. Each department has its own considerable assortment where you will definitely find something that suits you and your unique style. And make sure to return at regular intervals. The turnover of the goods in the store is significant and there are always new and exciting products on the shelves.
Lots of furniture, decorative items and things for the home
Downstairs, you find everything you need for the home. If you need a new comfortable sofa or a larger dining table, have a look at the huge furniture section. You will also find everything in hardware, kitchen utensils, lamps, electronics, antiques and paintings, if your home needs spicing up or you need new  everyday items.
If you are in need of entertainment, there is a section with music, movies and games.
Clothes for every day and for parties
On the first floor, there is a clothing section for fashion-conscious women/men. You can dress yourself from top to bottom if you go all the way around the first floor where, in addition to clothes, you find lingerie, accessories, shoes, bags, socks and a whole section of partywear.
On the first floor, there is also an area dedicated to children with children's clothing, exciting toys, baby equipment and much more.
Enjoy a lovely meal
Why not combine the shopping trip with a good lunch or a cup of coffee and slice of cake? In the first-floor café, you can sink your teeth into the dish of the day or another tasty lunch menu. The café is run as a socio-economic enterprise and, therefore, the food is priced at a level to welcome everyone.
Also, visit the flea market
The second-hand centre shares the building with a 1,000-square-meter flea market, Kræmmerhuset. This is a good place to make a bargain amongst the many exciting items sold by private individuals.
Not enough room in the boot?
At Blue Cross, you can have your goods delivered. Alternatively, you can borrow a trailer if you simply cannot wait take your finds home. Contact the centre customer services to hear more.
Plenty of parking right outside the door
You can park right at the entrance to the shop in the large, free car park where you will always find a space.
Blue Cross is always open Monday to Saturday. Go to their website to check the current opening hours.
Destination Kystlandet © 2023