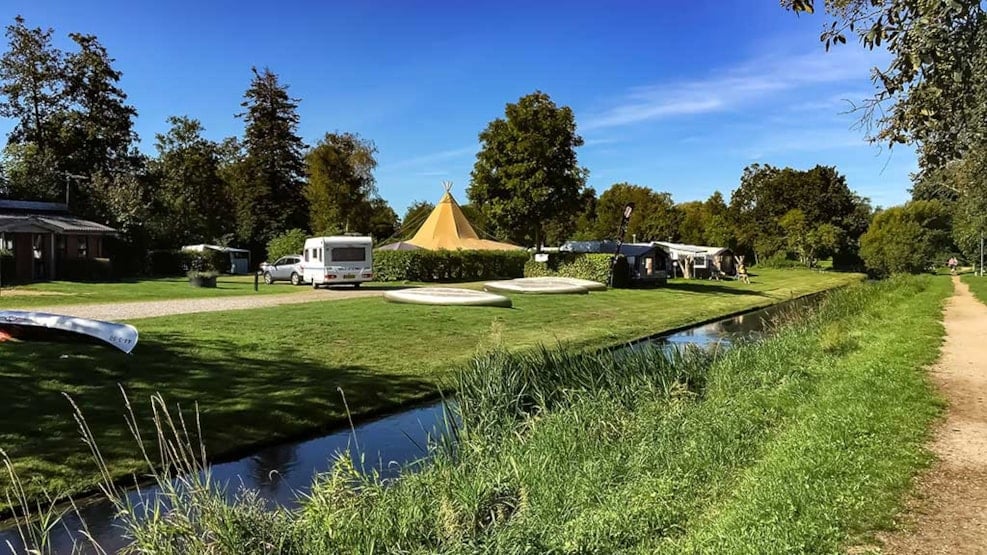 Tørring Camping
Tørring Camping is located at the heart of Jutland, in the middle of the town, by also in the middle of scenic nature with Gudenåen rippling along the camping site. In the idyllic surrounding at Denmark's only river, you can spend the night in either a caravan, a cabin, in a luxury tent or a shelter.
Holiday with presence
Tørring Camping is located in scenic surroundings and the river Gudenå ripples through the camping site. At this small, charming site, you can relax in beautiful surroundings and enjoy camping life. Here, you find all the comforts and facilities, you could possibly wish for. The Camping site has its own café, a new reception building, an ice-cream kiosk, fine communal areas, a new toilet building, laundry room and much more.
Overnight accommodation to suit your needs
You can stay at Tørring Camping in your own caravan, campervan or tent. If you do not have a caravan, you can book a wooden cabin. The cabins are equipped with a double bed, sofa bed, dining area, terrace and kitchen facilities.
You can also rent a glamping tent which is a lovely, luxurious way to camp. Here, like in the cabins, you have a double bed, kitchen equipment and a terrace.
There is also a shelter in a peaceful corner of the camping site, set in nature. If you love primitive outdoor accommodation but also want to use the facilities at the service building, the shelter is the solution to suit you.
The starting point of your nature experience
Tørring Camping is located next to Tørring Canoe Rental and near the source of Gudenåen and is, therefore, the natural starting point of a canoe trip on Gudenåen. This means that you may run into a lot of canoeists at the camping site. The staff is ready with advice and guidance and you can also book a package tour on Gudenåen through Tørring Camping.
There are many hiking and cycling routes in the area and, near the camping site, there are natural areas such as the source of Gudenåen, the pool Uldum Kær and the old trail of Hærvejen.
Tørring Camping has put together a four-day cycling and hiking holiday that takes you from Tørring along Gudenåen to the Danish lake district Søhøjlandet and the town of Ry.
At the heart of Jutland – close to everything
Tørring is perfectly located for a holiday where you visit some of the major attractions of Jutland. Not far from here, you find Billund and LEGOLAND, the city of Aarhus, Givskud Zoo, Jelling – Home of the Viking Kings, the mill museum of Uldum Mølle, The Uncovered Bridge and the Prison Museum in Horsens.  
Destination Kystlandet © 2023