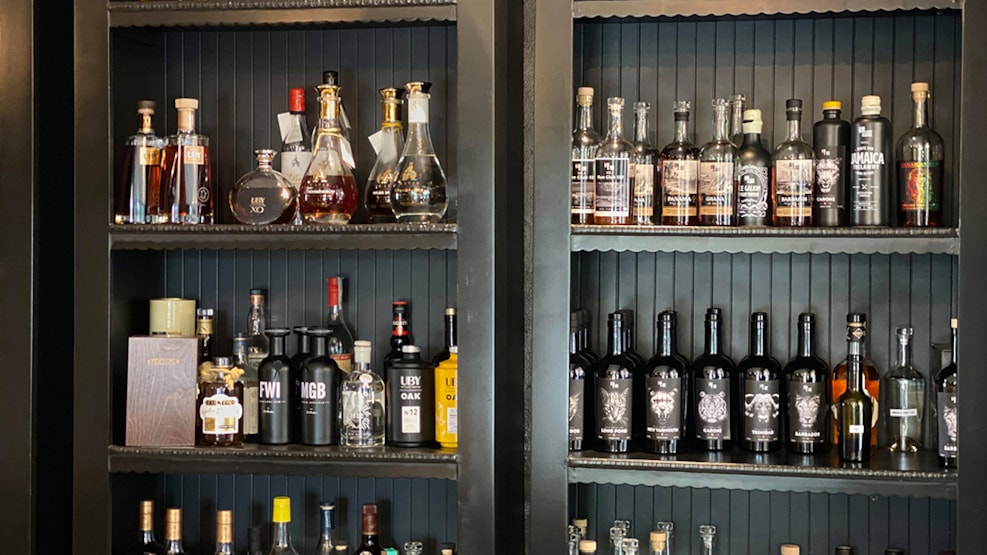 Romdeluxe
Visit Romdeluxe in Stensballe and feel how life gets a little sweeter. Lower your shoulders and take your time. Welcome to the world of rum.
Romdeluxe – exclusive shop and showroom
Romdeluxe is located in modernized but historical premises at the old smithy of Stensballegaard mansion. The instant you enter, you will notice the attention to detail.
The patinated chesterfield sofas, and the dark floor-to-ceiling shelves filled with colorful and inviting bottles. The soft lighting and the relaxed atmosphere make you feel like you have joined an exclusive club, rather than visiting a specialty store.

The reason for this is, that Romdeluxe more than just a shop, but a matter very close to the heart of the three rum-enthusiast Claus, Kim, and Michael, who wanted to share their passion with the rest of the world.
Selection, own production and historical bottles
At Romdeluxe you will find a large selection of whisky, gin, other spirits – and of course - rum.

Romdeluxe offers brands from a vast variety of manufacturers, but also from their own bottlings; Room Deluxe Collections. Here you will find, among other things, their Wild Series Rum, Collectors Series, Limited Batch Series and Selected Series. Each series have different varieties that vary in both taste and strength and are bottled from specially selected casks.

See Romdeluxe's entire production here and remember to ask the staff in the store - there is often a great story associated with each bottle.
For the incarnated rum enthusiasts, Romdeluxe also sells historical bottles that are displayed in the store's showroom.
See the current selection of historical bottles on Romdeluxe's webshop.
Romdeluxe also has a large selection of beers, wines, accessories, mixers, garnishes and gift baskets and boxes that are perfect for the hostess gift, the special occasion, or the anniversary.
Tastings, cocktail-school and other events.
At the back end of the store, in a lowered room with the smithy's original ace, you will find Romdeluxe's tasting room.
Here, Romdeluxe arranges rum, gin, red and white wine, rosé, port wine - and champagne and caviar tastings several times a month.
A few times during the year, you can also test your cocktail-making skills, and maybe even learn a trick or two when Romdeluxe holds Cocktail School.
If you want it to be extra cosy, there is sometimes live music throughout the evening.
See all Romdeluxe's exciting events and book your ticket immediately.
It is possible for those interested to book the tasting room for meetings, events, and arrangements. Contact Romdeluxe for more information.

The city's best rumkugler (dessert with rum essence)
You cannot visit Romdeluxe without tasting the award-winning rumkugler from Nørre Aaby. Only a few shops in Denmark have been selected to be retailers of these famous rum kugler from Funen, so remember to taste them - now you have the chance!

Opening hours
On Romdeluxe's website you can see the current opening hours.
Are you looking for more experiences in the area?
See our guide for a trip along the north side of Horsens Fjord and start your excursion now!
Destination Kystlandet © 2023