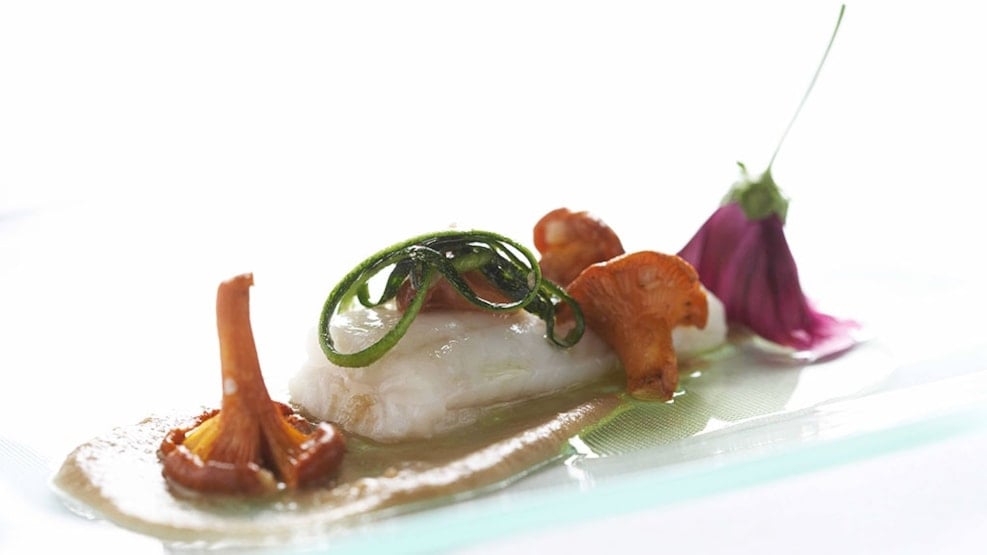 Restaurant Près
The inn Norsminde Kro has two wonderful restaurants. Restaurant Près offers you a high-class gourmet experience. You can also visit Brasseriet, where you can have a delicious meal from the a la carte menu in an informal historical setting. Either way, you will have a dining experience that you will remember.
Great dining experiences await here
In the old historic Norsminde Kro from 1693, you can have dining experiences out of the ordinary. The inn is known for its exciting cuisine where unconventional menus are found side by side with well-known Danish dishes and local specialties. 
Restaurant Près: High-class gastronomy
The skilled chefs at Restaurant Près serve up dishes that are almost small works of art. The food I served with passion and the service is top-notch. During the year, the menu changes, focusing on seasonal produce and quality ingredients supplied by local food producers. Along with the food, Restaurant Près has a sumptuous wine card and a knowledgeable sommelier who will guide you to the right wine. See the current Restaurant Près menu here. Table reservation is required.
Brasseriet: Bring your family:
At Brasseriet, you can enjoy a cosy time with friends or family in a relaxed and informal setting. Take a seat in the spacious restaurant, relax in the lounge furniture or soak up the sun on the large terrace – the choice is yours. Brasseriet has a substantial and varied á-la-carte menu that will definitely have something to take your fancy.
You are also welcome to stop by and enjoy a beer, a glass of wine or a snack on the terrace overlooking the harbour. In the summer, there is also an ice-cream kiosk.
Book overnight accommodation with a meal
Combine the dining experience with spending the night in one of the inn's atmospheric rooms. The inn offers several different packages that include dining in the price. Read more about the classic package at the inn here, the gourmet package or the Thursday package with dinner at Près.
About Norsminde
For centuries, Norsminde Kro has been the centre of the small port town at the entrance to Norsminde Fjord. Here, the maritime is right on your doorstep with the cosy marina, eateries along the water, children catching crabs and one of the area's most beautiful beaches. Learn more about Norsminde here.