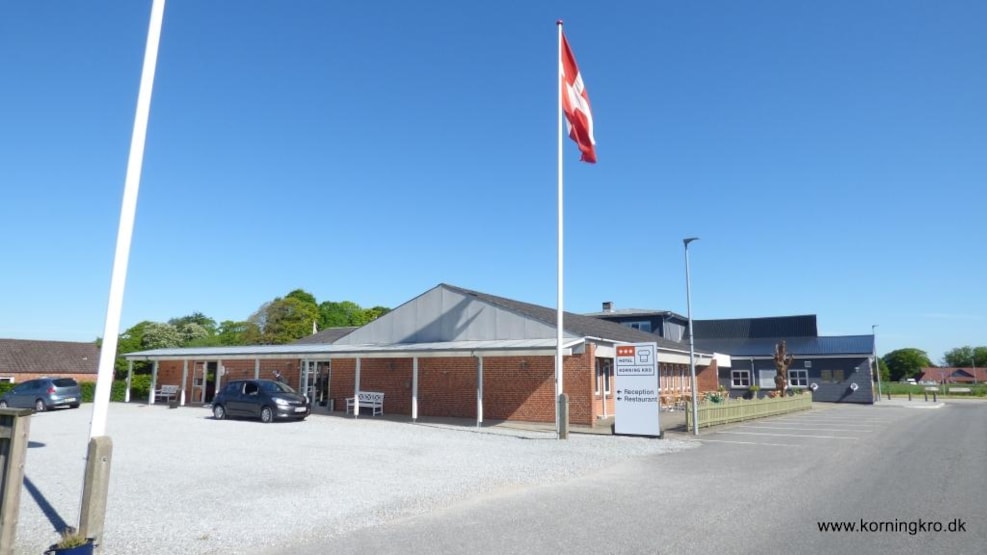 Hotel Korning Kro
Spend the night at a classic Danish inn in the village Korning near Horsens. The keywords during your stay are comfort and quality. Here, you can combine accommodation in lovely rooms with culinary pampering.
Tradition and Danish hygge in the country
A 10-minute-drive from Horsens you find the village of Korning, where the local inn is the focal point. Hotel Korning Kro offers cosy hotel rooms at affordable prices. When you book your stay, you are guaranteed a relaxing setting for your stay.
You can choose to just spend the night or book a classic stay including breakfast buffet and two-course dinner.
The lovely setting
The hotel has 22 rooms in good repair – all decorated with a great respect for the hotel's style and the location with an idyllic rural atmosphere. The rooms are bright and modern – each with their own bathroom, TV, kettle and much more. Most the rooms have large windows with a view to forest and fields, balcony, or terrace. Both smoking rooms and non-smoking rooms are available. There is also a desk and free wi-fi in the rooms, so you can work in peace and quiet from the hotel room.
All rooms are 24 m2. Two of them are made accessible for wheelchair users.
The good food
Korning Kro's restaurant is known far and wide for their classic Danish dishes. The chef takes pride in making the food from scratch with only fresh ingredients. A two-course meal with lots of pampering and great service is an experience in itself and an important part of the stay. With Danish dishes such as tarteletter (patty shells) minced beef and Wiener Schnitzel you are in for good old-fashioned classics. 
Close to everything
Korning is only a short distance from Horsens, Vejle, Aarhus, Hedensted, Billund… well actually all of Eastern Jutland and its attractions, the town life, golf courses and shopping experiences. Here, you are close to everything and still far away, surrounded by fields and hiking paths.
Booking
Call the hotel or send an email to book your stay.