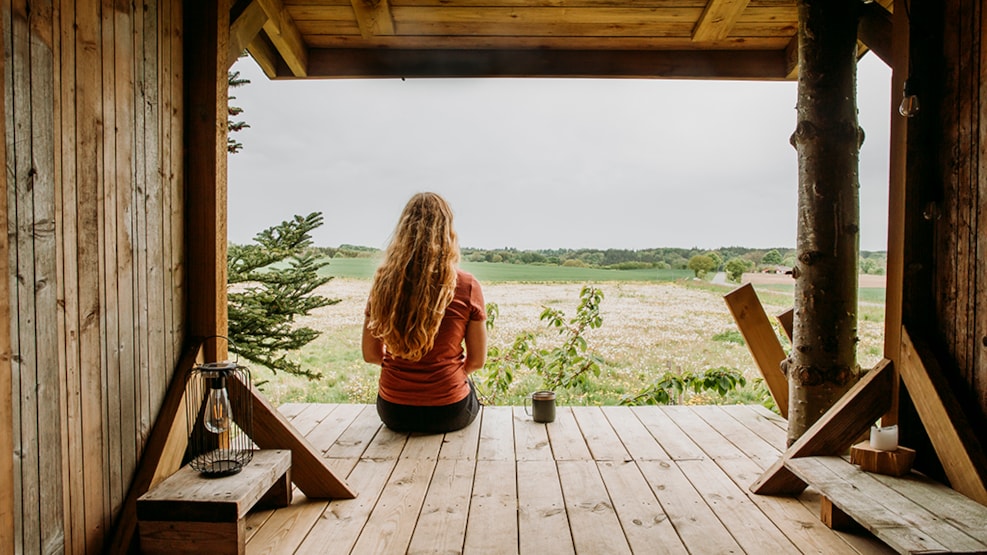 Holmely
In the beautiful scenery northwest of Brædstrup you will find this cosy base for outdoor activity. At Holmely, you can sleep in the open air in a tent or glamping tent on the large grounds that are designed for nature lovers. For a greater degree of comfort, you can stay overnight in the charming annexe.
Outdoor accommodation for everyone
Holmely is not just a place for accommodation, but also a dream - a dream of creating an oasis for people and wildlife. Here, outdoor recreation and nature are at the centre. When you stay at Holmely, you have many options for accommodation. It should be easy, convenient and comfortable to stay overnight in nature, regardless of preferences and experience of accommodation in the open air. At Holmely, you will feel at home and always feel good hostship.
Holmely is under continued development. It aims to create an open-air universe with great facilities and exciting accommodation. However, all development is done with respect for nature and with a focus on sustainability.
Try a night in luxury tent
Glamping is a new form of accommodation where you sleep in large luxury tents furnished with beds and tables. At Holmely, three glamping tents are available for hire, and when booking your glamping tent, you do not need to think about bringing bedding. The beds are made when you arrive.
Sleep in the trees
In Holmely's tree top shelter you can sleep with a great view of the fields and forest. Climb the ladder to the shelter which is tightened to the tall trees on the lot and step inside the cosy shelter with foldable mattresses, little tables and dimmed lights. Read more about the shelter on this page.
Sleep indoors in the cosy annexe
On the grounds you will also find a newly redecorated and comfortable annexe that can be booked. There is a 140 x 200 bed for two people with bedding and towels in the annex. There is a private bathroom and toilet, as well as a well-equipped kitchenette with a fridge and free coffee.
In front of the annex there is both a small terrace and a brazier with a table/bench set.
Go for an ebike holiday at Holmely
Holmely offers ebike tours where everything is taken care of for you. The electric bicycle is fully charged and ready for you and accommodation included. On the ebike tours, you will experience much of the beautiful nature that characterizes Bakkelandet and the Gudenå Valley. And one of the stays available also takes you to several local eateries and food manufacturers selling quality products. 
You can read more about the ebike tours on this page. 
At Holmely you also have the chance to rent e-bikes or gravel bikes without booking accommodation. Call Heidi in advance and hear if they are available. 
Events at Holmely
Holmely organizes exciting events with nature as a theme. Come along for guided e-bike tours to the nature attractions of the local area, participate in gin walks with tastings, or experience a beer and bonfire event where a gourmet chef cook at the bonfire with beer as a theme.
On this page you can have an overview of future events.  
In the middle of some of Denmark's most beautiful countryside
Holmely is surrounded by fields, beautiful scenery and has fantastic views. Located at Bakkelandet north of Brædstrup and the southern part of Søhøjlands, it is not far to incredible experiences out in the countryside. The area is characterised by forests, lakes and hills, and just a short walk from the site you will find Karlsø and Bryrup Langsø, both excellent swimming lakes. A few kilometres from the site there is the popular hiking and cycling route, Naturstien Horsens-Silkeborg. Holmely is located in the middle of the route and is therefore the obvious choice of accommodation on the hike between the two towns. There are beautiful natural attractions near the site such as Den Genfundne Bro (The Uncovered Bridge), the vantage point Sukkertoppen (Sugar Top) and the vintage railway at Veteranbanen Bryrup-Vrads.
If you want to explore the area, you can hire a bicycle at Holmely.
You can read more about Bakkelandet and Brædstrup via these links.
Optional purchases
Breakfast: For 95 DKK you get access to Holmely's breakfast table from May-August
Packed lunch: 60 DKK
Tapas for two: Dried sausage, air-dryed ham with parmesan and pesto, 2 kinds of local farm cheese,snack, garnish, home-made breadrye bread and butter. 240 DKK
Ebike rental: 300 DKk per day. You can drive up to 80 kilometres without charging the battery. 
Firewood: DKK 25 for an "armful"
Hot shower: DKK 35