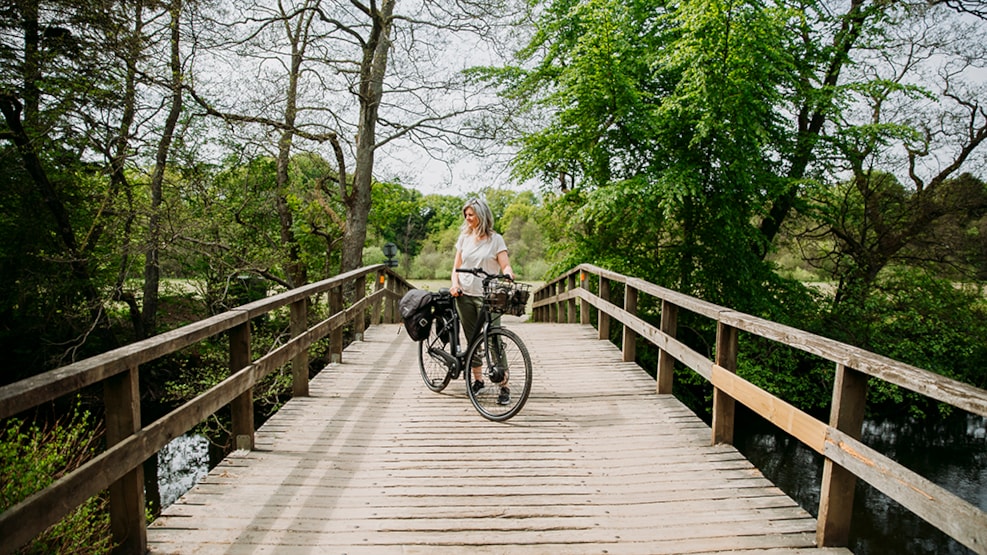 Holmely Ebike Tours
Enjoy a lovely bicycle stay in beautiful nature in Eastern Jutland. Everything is taken care of in advance – the routes are planned, the electric bicycle is charged and the bed is made at the unique Holmely near Brædstrup.
Active and relaxed short break in nature
Holmely Ebike Tours are packaged bicycle stays at the ridge of Jutland where hills, deep forest, lots of lakes and the Gudenå Valley characterizes the landscape. Everything is planned for you in advance, so all you have to do is show up at Holmely. The bicycle is ready, clean and with a fully charged battery. And here in the southern part of the Danish Lakelands, you will be accommodated at a place with many exciting and unique choices of accommodation.
Gourmet and river sources
You can choose two different stays at Holmely. Both tours include two nights at Holmely. No matter which tour you choose, the tour is tailored to ensure that you will get great experiences en route. The distances are manageable on an electric bicycle, and it is not necessary to be at the peak of your form. The experiences and immersion is in focus. Both tours include a trip to the Uncovered Bridge which is close to Holmely.
The gourmet ebike tour takes you to some of the best local food manufacturers and farm shops in Central Jutland. You can look forward to delicious lunch and exciting samples of both food and drinks. You also get to explore the beautiful nature that characterizes the area.
You can also choose the lake & river source tour where you explore some of the many lakes in the local area. You also go to The Great Watershed where the Gudenå River and Skjern Stream has their sources.
For both stays you can add an extra night and a highly recommendable tour to the Monastery Mill and the vista point The Sugar Loaf with lunch from the Little Smokehouse.
E-bike ride around Horsens Fjord
Holmely offers youto come along for a lovely e-bike stay around Horsens Fjord. On this trip, you will cross the fjord via the two islands Alrø and Hjarnø. Great accommodation and meals at exciting eateries is included. Read more about the Horsens Fjord E-bike stay on this page.
Bike rental
You also have the opportunity to rent an e-bike without accommodation and go for a bike ride in the lovely nature. The price is 300 per day per bike. 
About Holmely
Holmely is located in the nature area Bakkelandet west of Brædstrup. Here, they offer memorable and different accommodation with nature in focus. You can try glamping, sleeping between the tree crowns in a treetop shelter, or sleeping inside in the creatively designed rooms.
By default, you sleep inside for the ebike stays, but feel free to request a different type of accommodation when booking.
Book your stay
Are you ready to book your own ebike tour? Then follow this link to the Holmely website where you can book your stay online.
The area around Holmely
On this page you can read more about Bakkelandet where beautiful nature goes hand in hand with  historic attractions and tempting food experiences.
Destination Kystlandet © 2023