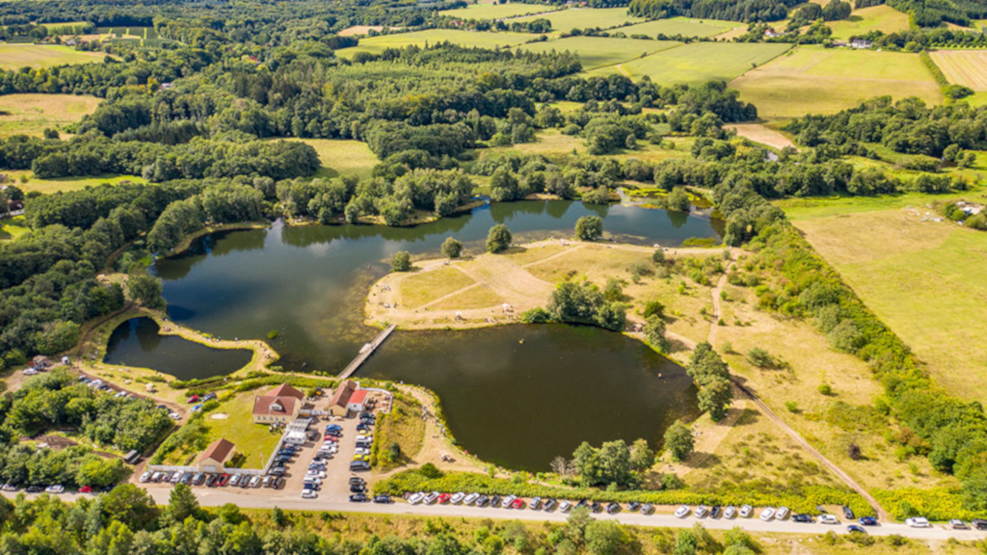 Fyelmose Put & Take
The conditions for a catch are great at this 30 acre large haven for recreational fishing in scenic surroundings. You will find room for everyone here - the nature lover, the families, the inexperienced, experienced and the pros in all ages. Come and enjoy a great nature experience in the largest put & take in the local area. 
Terrific fishing universe in the Danish Lakelands
This put & take haven is located in the hilly nature between Horsens and Silkeborg, offering memorable angling experiences for all. The facility has two kilometres of lakefront and a total of three lakes with spring water. Fyelmose offers an authentic fishing experience and is suitable for all types of fishing. Many types of fishing spots can be found here, from shallow water where you can stand in the midst of the rushes in your waders, to lakefront, brink and islands from which you can fish directly into the deep. 
You are welcome to bring your catch home with you for dinner. Feel free to use the fish cleaning station. 
The three lakes
The children's lake (little fish) There is nothing greater than when a kid catches his first fish or when a family goes home exhausted after enjoying themselves, fishing and eating together in the nature. The lake is always filled with fish, and this is the perfect way for the youngest members of the family to try angling for the first time. 
The family lake (medium sized fish) In the family lake you can catch smaller fish (1-4 kilos). 
The nature lake (big fish) At the nature lake you can forget about time and space. The amazing feeling of catching a big fish combined with beautiful nature is by many considered to be something truly unique. In the nature lake, the fish are bigger (2-10 kilos) and the lake is far deeper and bigger than the others. 
Fyel-Shop
In connection to the put & take there is a store with a wide selection of equipment. Here, you can find your new rod, wheel or lure. You can also rent equipment if you do not have your own fishing rod. And if you need cold refreshments on a hot summers day then you can buy them here. 
Prices and opening hours
At the Fyelmose Put & Take website you can see prices, regulations, future events and much more (in Danish).  
The site is open every day from sunrise to sunset - also on holidays. 
The surrounding area
The area around the fishing lakes offers hiking routes, forest and meadows. Not far from here is the river Gudenå, the Uncovered Bridge and the popular railway path between Horsens and Silkeborg. There is also a rich biodiversity of flora and fauna - and it is hard to miss roe deer, swans, kingfishers and the likes while fishing in the quiet nature. Very close to Fyelmose is also Fyel Bathing Lake where you can go for a swim and enjoy an ice-cream before heading back home. 
Destination Kystlandet © 2023