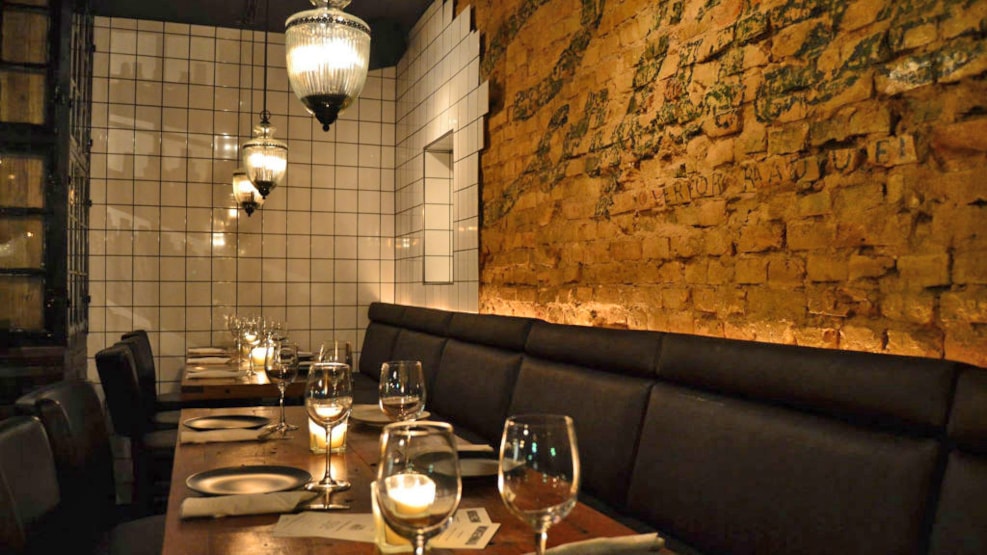 CORFITZ
In the middle of the main shopping street in Horsens you will find this ideal setting for romantic restaurant experiences, cosy sidewalk café atmosphere and cocktails with your friends.  Corfitz covers a wide field as the city's central rendezvous.
Sidewalk café and cosy restaurant
Restaurant Corfitz in the centre of Horsens is the ideal place to go if you wish to spoil your taste buds. The cosy restaurant is located right in the heart of the pedestrian street Søndergade and has many seats both inside and outside.
If you choose to sit at one of the many tables outside, Corfitz serves as a popular sidewalk café where you can enjoy outdoor serving of cold drinks and delicious meals. On sunny days, Corfitz is one of the great draws in Horsens with its many seats directly on Søndergade. The café is bustling with life and happy guests in the sun or below our large sunshades. On colder days, the patio is often open. Blankets and patio heaters ensure that you stay warm.
Inside the restaurant there are two floors to choose between. The ground floor has a cosy café atmosphere and is ideal for a lovely brunch with your partner, coffee with your friends or delicious drinks before a night out.
The first floor delivers a genuine restaurant atmosphere with white tablecloths and candles. This is the right setting for large parties or intimate dinners with your loved ones. If you continue through the room, you will get to Corfitz' wine bar that offers delicious quality wine from all over the world. The rustic arrangement of the 1st floor restaurant is thorough and well thought out and ensures a relaxed 'hygge' atmosphere.
Modern menu with lots of temptations
No matter where you choose to sit, the menu is the same, and you will be in line for great taste experiences. You can compound your dinner from the restaurant's exciting selection of snacks, accompaniment, and sauces. Try the grilled pepper with feta cheese, panko shrimps with chili mayo, duck breast with red cabbage, orange and hazelnut, or grilled thymus with sour cream and cress.
In addition to the snacks, you can look forward to Corfitz' tasty signature burger, tender steaks, freshly caught scallops and fish as well as classic café dishes such as club sandwich, ceasar salad and fried beef tartare.
From 10 am. You can come in for delicious high-quality breakfast. The breakfast menu includes croque madame, omelette and sandwich with avocado, shrimps, and cottage cheese. Alternatively, you can choose the popular brunch with a wide variety of homemade delicacies.
Delicious drinks
In Corfitz' well-equipped bar, you can surely find delicious drinks that complement your dinner. There is a well-assorted wine menu, Danish and international draught or bottled beers, delicious cocktails, long drinks and cocktail-pitchers. Each week the bartenders make up a new pitcher that you can enjoy before dinner or at the end of an eventful day in Horsens.
You are always welcome to come for a drink or a cup of coffee without ordering food.