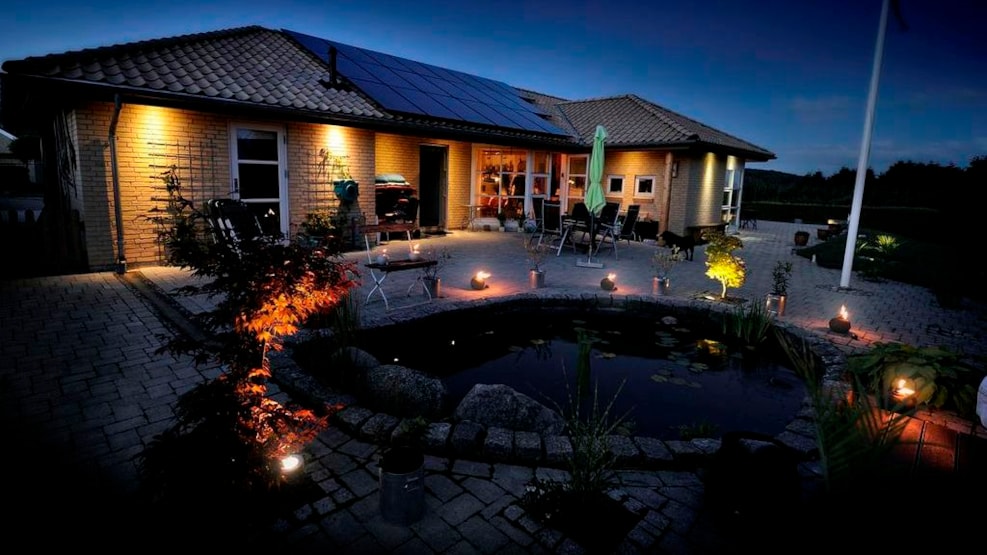 Bed and Breakfast Horsens Udsigten
This lovely private accommodation is located on the eastern outskirts of Horsens, next to Stensballegaard Golf Club. The comfortable rooms all have private entrances and a beautiful view. The accommodation is not far from the city center and its attractions.
Accommodation on the border between city and nature
In the Stensballe district of Horsens, this private accommodation is situated in the very last row of houses with a view of fields, golf course, forest, and fjord. There are three rooms available for private rental, each with its own entrance from the garden. The accommodation is adjacent to Stensballegaard Golf Club, which has been recognized as the world's best newly constructed golf course. A nice grassy path leads down to the popular Husodde Beach. Horsens city center is not far from Stensballe. The city bus runs regularly to the city and stops close to the house, but it is also recommended to walk or bike along the scenic panorama path, Husoddestien, along Horsens Fjord. Behind the golf club are the Stensballe Forests, offering excellent conditions for nature walks, especially along the popular hiking routes the Fjordmino and The Railway Path Horsens-Odder.
The charming rooms
Bed & Breakfast Horsens Udsigten offers three cosily decorated rooms, all equipped with a private entrance, adjustable beds, refrigerator, kettle, microwave, and flat-screen TV with approximately 50 channels, as well as a dining area. Two of the rooms have shared bathrooms, while the last room has its own private bathroom. From the rooms, there is a view of the garden and the golf course.
Guests have access to the garden and the furnished terrace from the rooms, along with barbecue facilities and a petanque court.
Book accommodation
Are you ready to book a room at Bed & Breakfast Horsens Udsigten? On their website, you can check the availability for specific dates and book rooms directly. Alternatively, you can call the owners.
The rooms are available for both short and long stays, making it a perfect solution whether you just need a single night's stay in the city, a weekend getaway, or an extended holiday.
When you book with Bed & Breakfast Horsens Udsigten, linen, free internet, coffee, tea, and towels are included in the price. Payment can be made in cash, by credit card, or through the Danish payment app MobilePay. The owners are happy to accept Euros and speak excellent English, German, and French.
You can find the current prices on the accommodation's website.
Destination Kystlandet © 2023