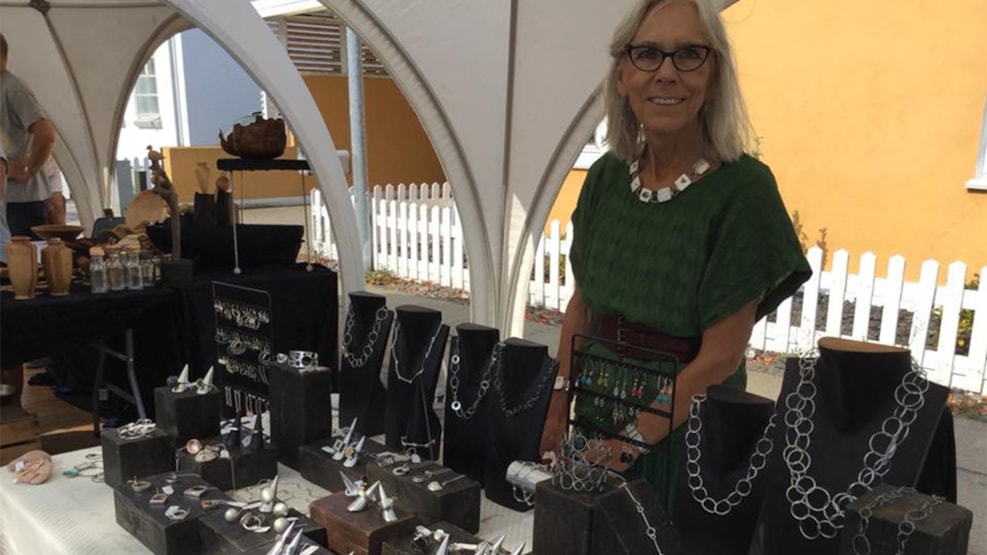 Arts and Crafts Market
The Arts and Crafts Market is a fully-fledged event where you can buy exciting and unique products. Have a look at the many stalls where talented artists sell their own quality products.
A large selection of quality products
During the last weekend of July, you can visit this market in the heart of Juelsminde. The market is made up of about 30 stalls in which skilled and passionate artisans display and sell their own unique products. The artisans who participate, design and produce their own products/works and are selected based on their design, based on the fact that the quality is top-notch and that the prices are aimed at a diverse market.
At the market, you find a wide selection of ceramics, glass, textiles, jewellery, yarn, knitwear and clothing, etc.
Enjoy the good atmosphere
It is possible to enjoy a meal or a cup of coffee at the market in the cosy surroundings of the town centre. You can also extend your stay by attending one of the workshops organised in connection with the market. This allows you to get an insight into the creation of the products and maybe become inspired to start your own hobby project. There is also a raffle at the market which lets you win the stall holders' unique products.
In the Pottemageren garden
You find the many stalls in Juelsgade in the town centre. The setting of this event is the area in and around Pottemageren in Juelsminde, the shop where Marie Würtz sells her ceramics. Adjacent to her shop is a cosy garden that is open to the public. The many flowers, plants and fine decorations in the garden are part of the experience and, on this occasion, they are part of the market.
The Arts and Crafts Market is organised by the association Kunsthåndværkermarked I Juelsminde.
Find more events in the Coastal Land
In the Coastal Land there is always something going on. Get inspiration for your next event here.