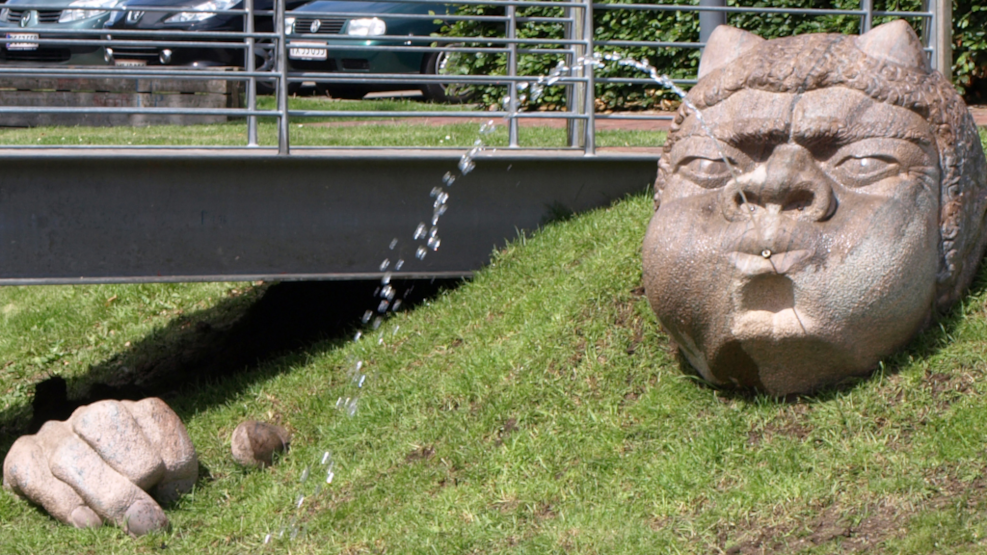 Sculpture tour in Odder
In the heart of Odder, there are several intriguing sculptures and gable paintings that can be combined to create an interesting route for art enthusiasts. The route offers a unique and thematic way to experience Odder.
Art in the Cityscape of Odder
Odder is enriched with a wealth of art in the streets around the city center, contributing to the city's beauty. Therefore, Odder Municipality's Art Committee has created a brochure and guide to the city's artworks, all of which are within a short walking distance.
Works on the Sculpture Tour:
1: Folkeparken: Erik Heide – Fuglefængeren (The Bird Catcher) (1969): Remarkable and artistically interesting piece, awarded the Gold Medal by the Royal Danish Academy of Fine Arts.
2: Folkeparken: Professor Villy Ørskov – 2 bronze figures and 1 stone figure (1970): Three prominent sculptures carefully chosen to complement the rustic architectural style of the town hall.
3: Odder River at Folkeparken: Frederik Sparvath (1983): Bronze sculpture mounted on granite in the middle of the Odder River.
4: Odder River at Polititorvet: Steen Krarup Jensen: This stone sculpture depicts a troll's head and also functions as a fountain, spouting water into the Odder River. The troll sculpture is very popular among children.
5: Polititorvet: F.C. Stramboe – Kong Frederik VII (King Frederik VII): A beloved bust of King Frederik VII in one of the city's most central locations. Odder's oldest statue, erected in the 1870s.
6: Folkeparken at the parking lot near Aabygade: Torben Rasmussen & Søren Mikkelsen – Nordlys (Northern Lights): This artwork on the wall illustrates a section of the Odder River on a black background.
7: Rosensgade on the backside of Biffen Odder: Ole Grøn – På Cowboyrækkerne (On the Cowboy Rows) (2006): Beautiful and colorful painting on the back of the town's cinema. The original painting is displayed inside the cinema.
8: Torvet: Børge Jørgensen – Livets Port (The Gate of Life) (1986): Beautiful stainless-steel sculpture in the fountain at the town square, Torvet. The sculpture's base is from the demolished main building of the nearby Rathlousdal Manor.
9: Rosensgade at Tværgade: Edgar Funck – Solstenen (The Sunstone) (1976): Stone sculpture of a stylized human-like figure with a mask.
10: Rosensgade at Raupachsgade: Erik Nyholm – Strømmen (The Stream): Large ceramic artwork on the gable depicting the Odder River.
11: Raupachsgade at Rosensgade: Mogens Gissel – Gul Gavl (Yellow Gable): Beautiful and colorful gable artwork created by the nationally renowned Odder artist. The piece features black motifs on a striking yellow background.
12: Rosensgade at Raupachsgade: Poul Pedersen – Skriften på væggen (The Writing on the Wall): The third gable painting at the same intersection. This piece displays the names of all the children who attended kindergarten in Odder in 1982, along with a series of words.
13: Near Restaurant Skovbakken: Erik Nyholm – Blå Bobler (Blue Bubbles): Five ceramic bubbles in the grass on the hill near Restaurant Skovbakken.
14: Near Restaurant Skovbakken: Steen Krarup – Frø I dag, rødder I morgen (Seed Today, Roots Tomorrow) (1994): Sculpture depicting an acorn. The acorn is a reference to Odder's coat of arms.
15: Skovbakkeskolen: Buller Hermansen – Livstræet (The Tree of Life) (2009): Beautiful and impressive ceramic work of a tree with 13 different birds.
16: Skovbakkeskolen: Aage Bruun Jespersen – Bjørneunge (Bear Cub): Stone sculpture of a small bear, very popular among the school's children.
17: Odder Museum: Anette Kappel Skovhus: By the lake stands this wedding sculpture in stainless steel, where newlyweds can attach a padlock as a symbol of their unbreakable bond.
18: Banegårdspladsen: Thomas Andersson – Mellemrejse (Interlude), Huskestenen (Memory Stone), and Glemmestenen (Forgetting Stone) (2019): Two stones in front of the train station with several bronze objects like a wallet, books, binoculars, camera, etc.
19: VitaPark: Ole Grøn – To På Tur (Two on a Tour): Large rustic iron installation with motifs characteristic of the local artist Ole Grøn. This is the main part of Two on a Tour, but smaller parts of the artwork are actually scattered around the municipality's towns. Two on a Tour encourages viewers to cycle around and see all the artworks. Read more about Two on a Tour on this page.
20: Randlevvej at VitaPark: Morten Nielsen – Manden med Lammet (The Man with the Lamb) (1969): Sculpture of an elderly man holding a small lamb in his arms.
21: Kirkestien: Inge Hørup – Liv (Life): This local artist is best known as a painter but has created a geometric work of bent bronze tubes with religious references to the nearby Odder Church.
22: Aalykkecentret: Erik Thommesen – Kvinde (Woman) (1987): Interesting, thought-provoking, and beautifully crafted bronze sculpture, which at first glance may not resemble a woman or anything living, for that matter.
23: Odder Library: Ole Christensen – Organisme (Organism) (1990): Large and simple stone sculpture that may evoke thoughts of insects but also limbs or organs.
More art experiences in the Coastal Land
Odder, Horsens, and Juelsminde offer numerous art experiences, both large and small, ranging from galleries to workshops, craftsmen, and art museums. If you're eager for more art-centric adventures, you can follow the Coastal Land Art Map. Alternatively, you can visit this website for other art experiences in the local area.
Other experiences in Odder
Would you like to combine your art tour with a delicious meal, some shopping, or relaxation in nature? On this page, you'll find inspiration for your visit to Odder.
Destination Kystlandet © 2023