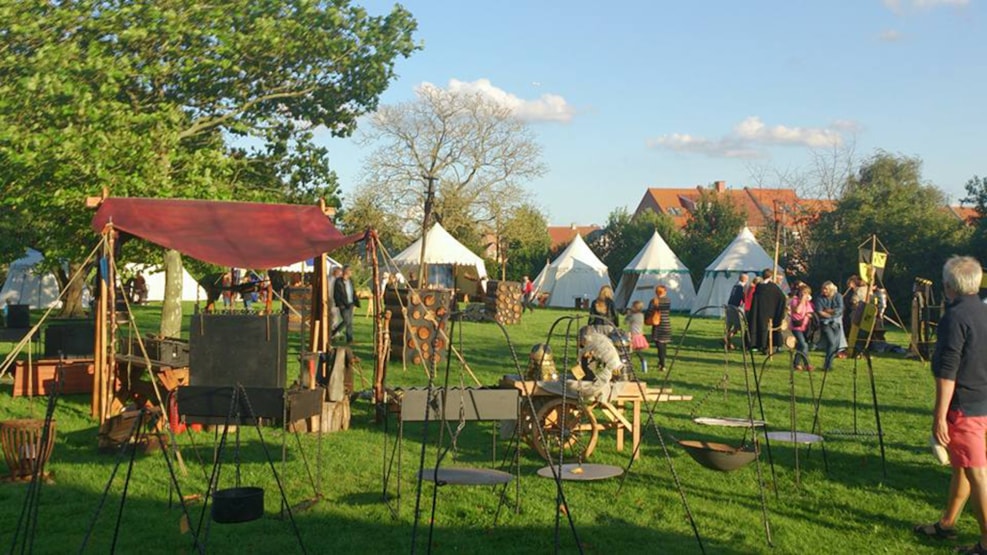 The prison park in Horsens
FÆNGSLET (the former state prison in Horsens) is now one of Denmark's large attraction with Europe's biggest prison museum and plenty of big events all year. 
Around FÆNGSLET there is a large green area. The prison park is often used for dog walking, playing, walks or picnics when the weather is good. There are tables and benches where you can eat your packed lunch or a nice meal from the prison café. 
The prison park hosts many events
The prison park is often used for large events at FÆNGSLET. Especially during summer time you can experience concerts with world-famous artists or activities for kids and adults. 
One of the big attractions is Horsens Medieval Festival that once a year fills the entire park with knights, maidens, entertainers, tradesmen and food stalls. All weekend you can participate in activities, watch theater or jousting, enjoy medieval meals or music. 
Experience more around the prison park
If you are attending an event at FÆNGSLET or you are looking for accommodation in town in connection with a visit to the prison museum, then you actually have the option to spend the night in jail. 
The former infirmary has been converted into the hostel SleepIn where you can sleep in authentic settings behind bars. The hostel has been rebuilt, but you can still get a good impression of what the infirmary looked like back in the days. The old radios in the cells still work, and you can still find engravings and quotes in the walls made by prisoners. 
If you are searching for inspiration for experiences in or near Horsens, then you might want to stop by the local tourist information at FÆNGSLET. Here you can find brochures and booklets about the area and get advice for your stay from the staff. 
The tourist information is located in the reception. Here you can also buy souvenirs. There are also toilets here that can be used during opening hours. Outside the opening hours you can use the toilets outside.