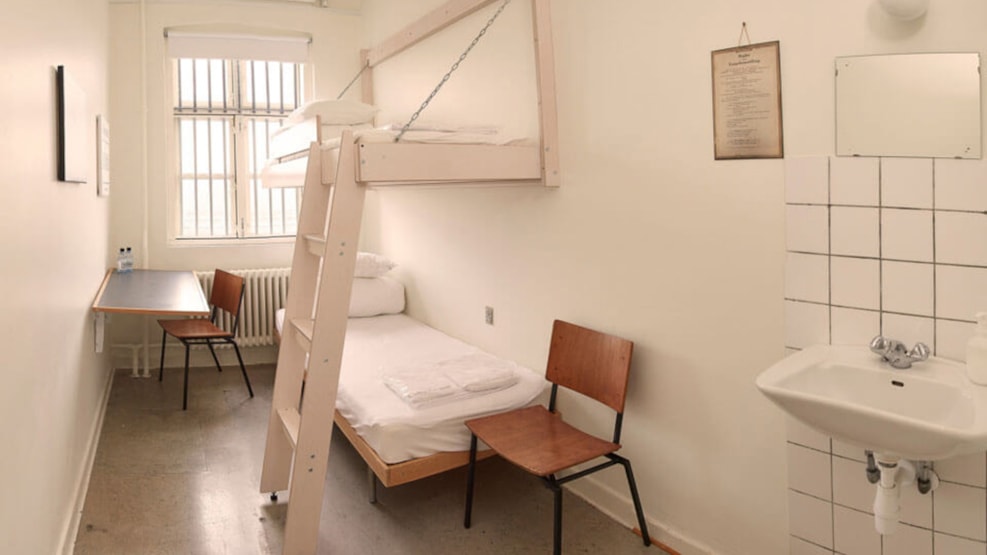 SleepIn FÆNGSLET
Experience a night behind bars at the former Horsens State Prison. The old infirmary has been transformed into a unique hostel with rooms in the old cells. Here, you can sleep next to the prison museum and the many events that take place here.
Unique and authentic accommodation
Horsens' cultural attraction FÆNGSLET has a dramatic history up until 2006 when Horsens State Prison was still active. In the historic building, the history is very much visible today as you walk around the halls.
Not least in the old infirmary which is now a hostel. The infirmary has been thoroughly restored to meet the demands of a hostel where people choose to sleep voluntarily. But the authenticity and history remains. One example is that the old radios in the cells are still functional, and that engravings and quotes from the inmates are still visible.
No matter if you are here to visit Europe's biggest prison museum, for an event or a conference, you will get a memorable experience when staying the night. SleepIn FÆNGSLET is a unique choice of accommodation that will make a deep impression on you and will surely make you reflect.
The old cells
SleepIn FÆNGSLET has room for 50 guests in 22 rooms. Each cell has room for 1-4 persons. You sleep in the original bunk beds. Do not expect luxurious surroundings – it is a prison after all. But the rooms and beds are quite comfortable.
The hostel is accessible for wheelchair users. There are handicap friendly rooms as well as disabled toilets and shower facilities.
Do they serve bread and water?
If you expect a tray of water to be served, then you will wait in vain. But you have the option to cook for yourself in the cosy kitchen where you find pots and pans, hotplates, a microwave oven, and cutlery.
You can book breakfast as a part of your stay if you wish. You can either pick up a breakfast bag or enjoy a delicious brunch in FÆNGSLET's café Brasseriet FÆNGSLET.
Booking
You can see the prices and book your stay on FÆNGSLET's website.
Feel free to contact SleepIn with your enquiry or any questions you may have by sending a mail to sleepin@faengslet.dk.
About FÆNGSLET
Today, FÆNGSLET is a cultural rendezvous for Horsens. The building is home to Europe's biggest prison museum, a café, hostel, and excellent conference facilities. Over the course of the year, big events are organized at the prison. For example, you can go to concerts with some of the biggest bands in the world, visit Northern Europe's biggest medieval festival and much more. FÆNGSLET is close to the city centre and easy to get to from the highway.
Destination Kystlandet © 2023