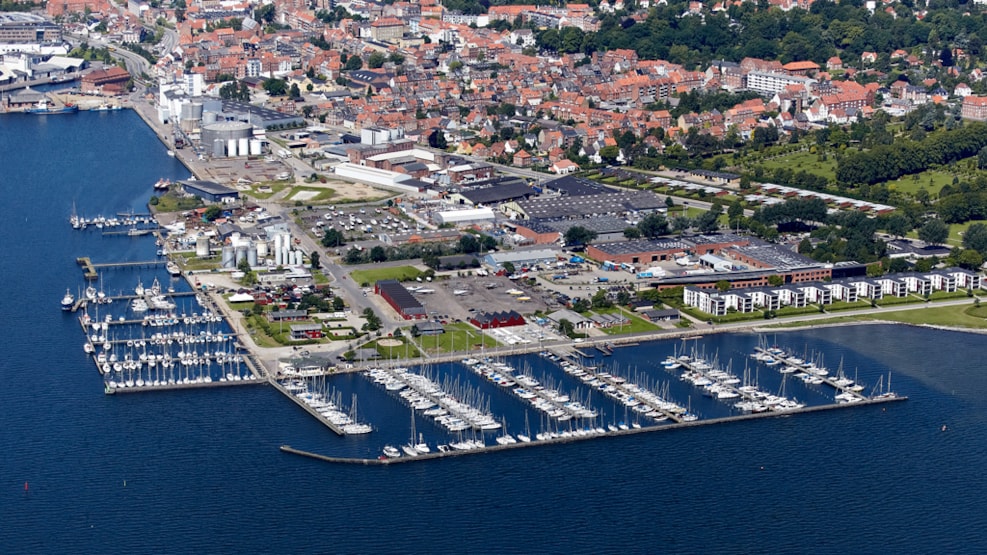 Horsens Marina Motorhome Site
At Horsens Marina, located very close to the city centre, you have the opportunity to stay in your own motorhome or campervan. Here, you can enjoy the marina's amenities within walking distance of the city's attractions.
Motorhome Site at Horsens Marina
If you're in search of a spot for your motorhome, mobile home, or campervan in Horsens, this is the most central option for you. The site is located adjacent to the city's marina and shares facilities with it. These facilities include toilets and showers, coin-operated laundry, a kitchen, tables and benches, and a playground. The harbour area in Horsens has undergone a significant transformation in recent years, evolving from an industrial zone into a modern recreational and residential space.
From the motorhome site, you can feel the refreshing sea breeze while enjoying views of ship masts and the waters of Horsens Fjord. Right next to the motorhome site is Restaurant Pynten, and the popular city beach, Langelinie, is just a few hundred meters away. During the summer months, there is plenty of life and activities in the area.
No Reservations Required
To stay overnight at the motorhome site, you need to register as a guest via smartphone. Instructions for this can be found on the electric charging station at the site. Overnight accommodation costs 185 DKK per night. It is also possible to purchase access to electricity and shower facilities via phone.
Guests are allowed to stay for up to three consecutive nights at the site.
Please note that overnight stays are limited to motorhomes only. For accommodation in a caravan or tent, guests are directed to the nearby camping sites in the area.
Explore Horsens
Horsens' shopping center is within a short walking distance from the marina. On Denmark's widest pedestrian street, you'll find numerous eateries and beautiful old buildings. Near the harbour, you'll find the Horsens Art Museum, the Industrial Museum, and the Horsens Museum. You can purchase a museum pass, granting you access to four museums in Horsens at a favourable price.
The walk to the city center can be done on the new harbor promenade. At the marina, you can borrow a bike and explore the city and the surrounding nature.
You can find inspiration for experiences in Horsens on this page.
The motorhome site is located at the end of Horsens Fjord. In this guide, you can find inspiration to experience the scenic fjord.
Destination Kystlandet © 2023