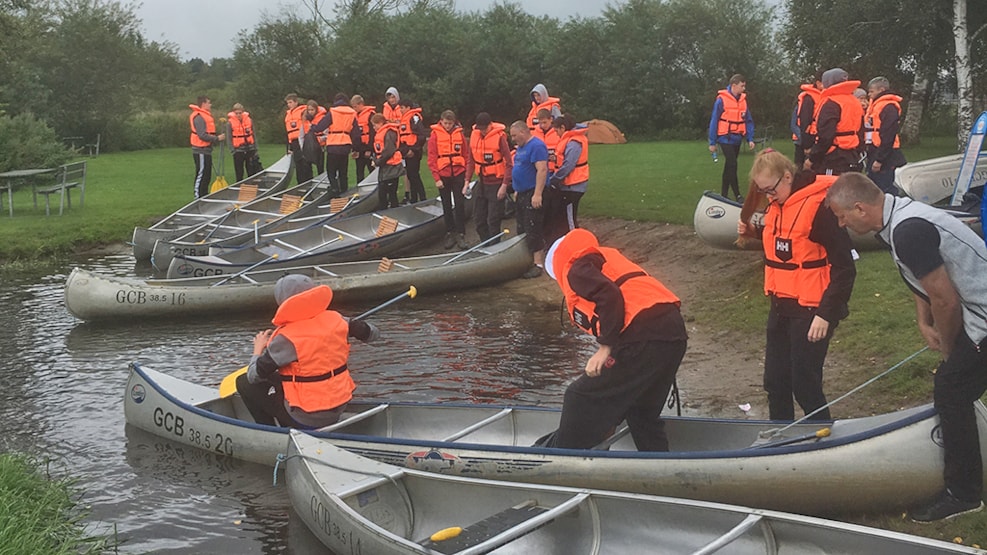 Canoe rental at Gudenå Camping
Enjoy the most beautiful part of the Gudenå River in a canoe. You can rent a canoe and begin the trip at Gudenå Camping, and easily follow the stream while your body gets calm and your mind empty.
Surrounded by nature
Nothing can compete with a canoe trip when it comes to lowering your pulse and calming your soul. On the first part of the Gudenå River you sail through dense forest with beautiful colours, both during early summertime when everything is green or during autumn with deep red, brown, and golden colours. Gudenå Camping is located right at the riverbend and is therefore a great place to start your trip whether you're staying at the campsite or not.
One way sailing
At the first part of the Gudenå River, it is only allowed to sail in the northbound direction with the stream. The tour can therefore start directly from the campsite. If you want the trip to be longer, you can also start further south at either Camp Åstedbro, Åle Teltplads or Tørring Camping. You decide how long the total trip should be, and you can always take the Gudenå bus back to Gudenå Camping again.
Practical information
Sailing at the Gudenå River is allowed from June 16th and only between 8 AM and 6 PM.
When you rent a canoe at Gudenå Camping the price includes life jackets, a map for navigating, and transportation of the canoe. A canoe is fitting for 2-3 adults or 2 adults and 2 children.
The price for renting a canoe for a day trip is 520 DKK per canoe. For two days the price is 1040 DKK and for three days 1475 DKK. In addition, a municipal tax of 25 DKK is added.
Learn more and book your canoe here. We recommend booking well in advance.
Activities in the Gudenå River area
The area around the Gudenå River offers much more than just canoeing. You can visit the small cosy town Brædstrup with speciality shops and restaurants, take a trip to The Uncovered Bridge, or enjoy the view from The Sugar Loaf. The largest city of the Coastal Land, Horsens, lies also nearby. You'll find cafés and restaurants, a wide variety of shops, city vibes, beaches, and cultural experiences here.
Destination Kystlandet © 2023