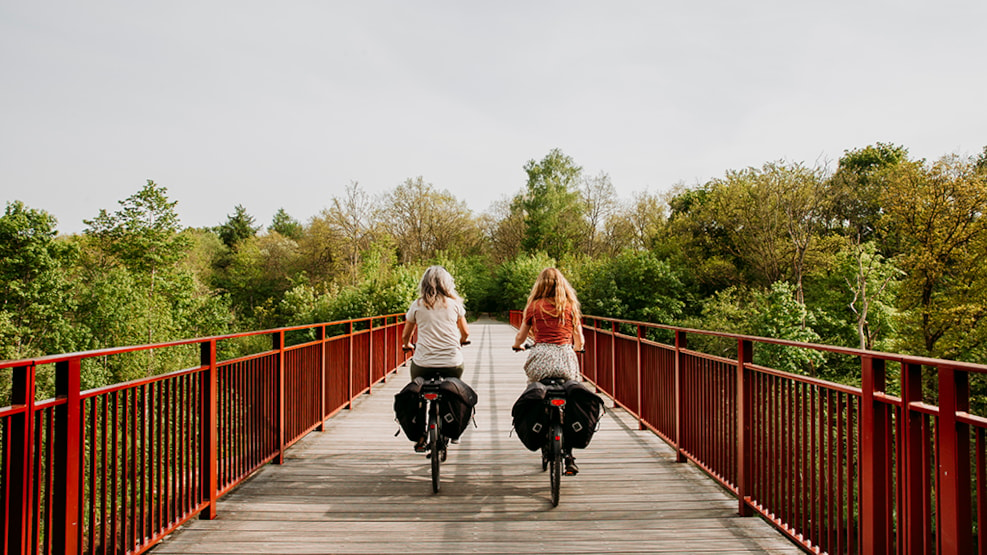 The Uncovered Bridge (Den Genfundne Bro)
In the idyllic surroundings of Bakkelandet near Horsens, you find a unique tourist attraction with an incredible history for the whole family to enjoy. The beautiful bridge across Gudenåen which was hidden and forgotten for a lifetime is, today, one of Denmark's most popular destinations - with good reason.
Experience the beautiful engineering of 1899 at The Uncovered Bridge
The Uncovered Bridge is a cultural-historical gem and a piece of revived Danish history that lay hidden inside a dam for 85 years. In 2014, the bridge was uncovered and restored to its former glory and, today, the bridge is a magnificent sight and an even better experience to walk across.
With good parking opportunities near the bridge that crosses the rushing Gudenåen, The Uncovered Bridge is an obvious destination for a picnic that can be enjoyed at tables and benches by the bridge.
Today, the bridge is a symbol of beautiful, industrial engineering, after it was thoroughly restored in 2014. When it was built, the red steel lattice bridge was the tallest of its kind in the Nordic region and, today,  railings and planks to walk on have been added to allow visitors to enjoy the view of Denmark's only "river", Gudenåen.
Facts about The Uncovered Bridge
- 13.4 metres high
- 50 metres long
- Built in 1899
- Covered up in 1929
- Uncovered in 2014
How to find The Uncovered Bridge
The Uncovered Bridge is located 20 kilometres north of Horsens between the villages Vestbirk, Træden and Gammelstrup. About 300 metres from the bridge, there is a large parking lot at Vestbirkvej 2A, Brædstrup. From here, a path leads to the bridge.
If you are taking a canoe trip on Gudenåen, The Uncovered Bridge is an obvious place for a rest and enjoying the magnificent nature in the area. There is a natural place to land the canoe at Vestbirk Hydropower Plant and it is not far from there to The Uncovered Bridge.
A ford has been established for visitors on horseback immediately east of the bridge.
Ride your bicycle to The Uncovered Bridge
The Uncovered Bridge is part of the beautiful, old Bryrup railway line which has now been turned into the Horsens-Silkeborg Nature Trail. The 61-kilometre route is mostly paved and without motorised traffic and is, thus, perfect for day trips on your bicycle. The picturesque trip through the hilly Bakkelandet and Søhøjlandet can be divided into two days as there are several possibilities of overnight accommodation along the way. The route is also popular with hikers and as a riding trail.
Now that you are here...
On this page you can find find inspiration for experiences near the Uncovered Bridge.
Destination Kystlandet © 2023