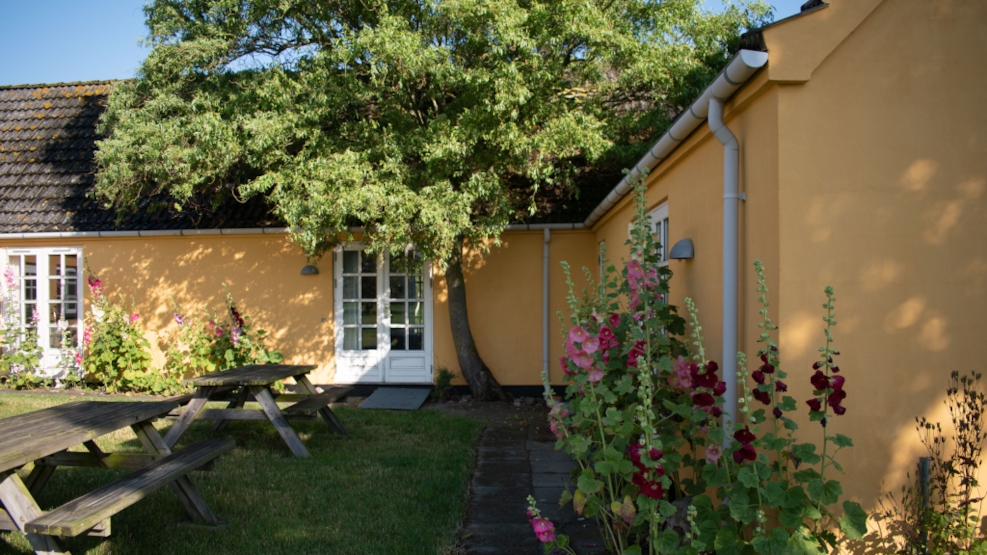 Blåkærgård
In the middle of idyllic Tunø, Blåkærgård is located in charming surroundings. At Blåkærgård you can experience the authentic Danish island atmosphere with a stay in one of the nice double rooms or enjoy a good cup of coffee or a glass of wine in the cafe.
Relaxation and idyll on the car-free island
There isn't many places in Denmark, that embodies the true island atmosphere, such as Tunø in the Kattegat Sea.

In the middle of the island, within a short walking distance from the island's experiences and attractions, is the farm Blåkærgård; a lovely traditional Danish homestead from 1880 with lots of patina set in a lush garden between old crooked apple trees, beautiful flowers, and the clear blue sky.

Serenity and relaxation come naturally once you have arrived at Tunø, and there is plenty of space to be yourself and just enjoy. There is room here for both a large family, a weekend for two, or a big group of friends.


Stay at Blåkærgård
There is plenty of space on the 500 m2 farm, which offers 14 rooms, and beds for up to 48 overnight guests. There are 4 double rooms and 10 family rooms/double rooms, all of which have direct access to the cozy garden. The rooms are basic but charming with shared bathroom/toilet facilities in the hallways.
Besides the many bedrooms, there are also many beautiful common rooms and a gigantic wood-burning stove, which provides warmth during the colder seasons. On the grounds, there is, among other things, a football field and a fire pit with a small lake.
From the house, a path leads directly to a perfect sandy beach with calm shallow waters, suitable for cooling dips on warm summer nights and energizing cold plunges during winter. Feel free to bring your SUP board and experience Tunø from the waterside.
When you book accommodation at Blåkærgård, bed linen, and towels are included in the price, as is the breakfast buffet and, of course, the popular, home-baked waffles.
On Blåkærgård's website, you can see prices and other practical information. 
The café at Blåkærgård
At Blåkærgård you can relax in the café with a cup of freshly brewed mocha/tea or a glass of juice. I you're a bit hungry, you can enjoy a Tunø toast or some homemade cake.
In the high season, a pop-up pizza parlor is added to the café, so come find a great spot in the garden, enjoy the sunset, and a delicious homemade pizza.

Summer camps at Blåkærgård
During the summer, Blåkærgård offers special weeks with a thematic focus, which are packed with activities. For instance, go on the YOGA camp, or join the SUP camp – 5 days bursting with water activities in great company with other happy guests. Or try the grandparents/grandchildren camp, with a focus on togetherness, presence, coziness, and fun.

See all of Blåkærgårds summer camps.
Book Blåkærgård for an event, a school trip, or a retreat
Are you looking for the perfect setting for a wedding, a camp stay, a stress-free retreat, or similar? At Blåkærgård you have the option of renting the entire farm with all rooms and all facilities. The possibilities are many, and owner Cecillie Bandelow is happy to help put together the perfect experience, including catering if needed. 
Contact Cecillie to hear more about the options and prices.
About Tunø
On Tunø, the unique Scandinavian island atmosphere is a big attraction on its own. There is a special idyll due to the absence of cars in the streets. In the small village, there are several places to eat 'al fresco'. The island's best-known attraction is probably the church, where the tower is a combined church tower and lighthouse.
We recommend you head out on the 8 kilometers-long roundtrip of Tunø. Much of the trail is located on top of the island's high cliffs and therefore has a fantastic view of the surrounding sea. Families with children can take a free treasure map with them on the trip. If you answer all questions correctly, you get a medal as proof.
Find additional inspiration for your trip to Tunø on Kystlandet's guide to the island.
Destination Kystlandet © 2023