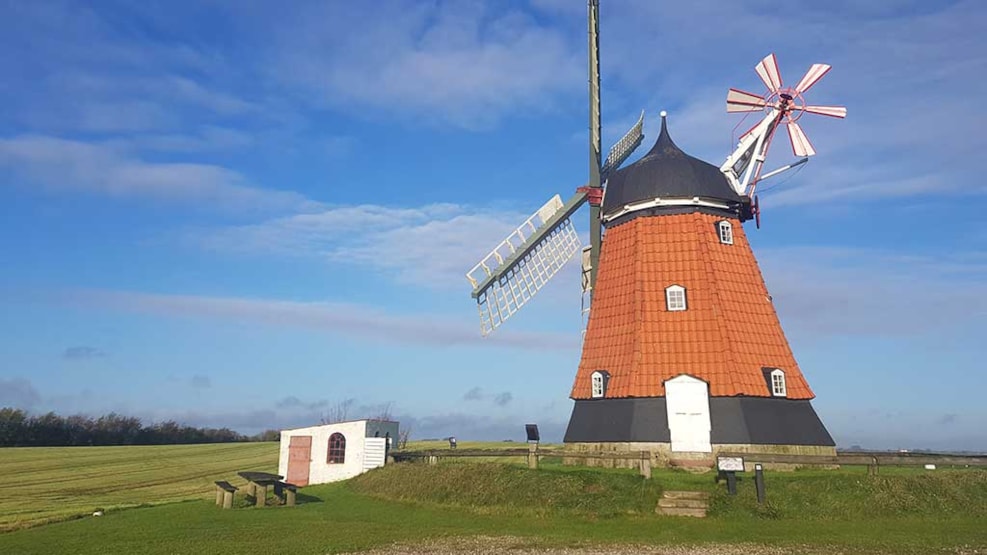 Bjerre Mill (Mølle)
The mill is always open for visitors.
Bjerre Mill is an octagonal Dutch windmill and the wooden structure is covered with red tiles.
The Mill was built in 1860, but wasn't insured against fire before 1865. On the 20th of October, the mill was ready to grind grain.
The hat and the 13,5 meters long wings were originally yawed manually and the wings wore sails.
West of the mill there is an empty motor house. In 1908, there was installed a motor running on petroleum to help the mill grind on days without wind. Four years later, the mill was modernized and the wings would now turn towards the wind automatically and their area were regulated by the strength of the wind.
Furthermore, the the roof of the mill was rebuilt, so that the tiles, which fell of when the mill was working, were replaced with roofing felt.
At the same time, there were put in windows.
The mill was up and running until 1955 and by then it was pretty dilapidated.
This became worse, but in 1974, Bjerre Millfoundation was made and within 4 years, the foundation renovated the mill. The tiles (many of them the original ones) were put back on. And the millwings were painted white. And in 2010, the mill got new wings.
The mill is the only kept mill with tiles in Denmark.
Destination Kystlandet © 2023