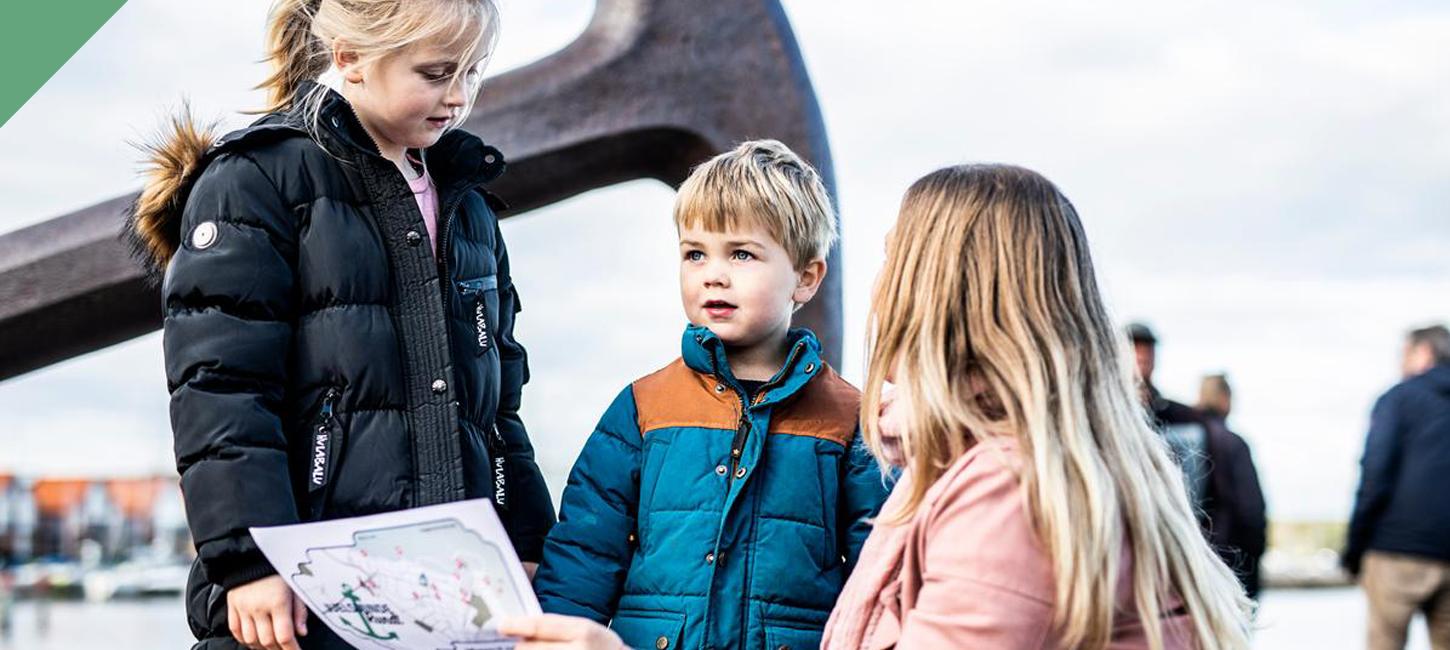 On a treasure hunt in Juelsminde
Photo:
Destination Coastal Land
Are you ready for adventure? Take the family on a fun and active treasure hunt in Juelsminde, and even get a free medal for the little ones as visible proof of their achievement!
Experience Juelsminde on a 4 km. treasure hunt around the town
Juelsminde has many hidden experiences and adventures for real treasure hunters.
How many lighthouses can you spot, and is it an anvil, a submarine or a ship's bell that you find in front of Juelsminde Harbour Museum?
Join the treasure hunt and find the answers, and win a medal for the little ones.
Photo:Destination Coastal Land
Start by downloading a free treasure map
There's no treasure hunt without a treasure map.
Download and print the treasure map below or have a printed version handed out at Buchs Boghandel, which is just a few parrot hops from Kompastorvet on Odelsgade. You can also pick up the treasure map and medals at Titra Dekor, in case Buchs Boghandel is closed. 
From here, the treasure hunt starts in the middle of the town on the corner of Odelsgade and Søgade. The tour takes you past playgrounds, the crabbing jetty at the harbour, mini golf, exceptional winter swimming facilities, as well as scenic cycling and hiking routes.
Photo:Destination Coastal Land
How many plates are there on the facade of the Potter's House? Go on a treasure hunt and find the answer!
Ice cream and fish dishes along the way
During the trip, you can pamper the family's treasure hunter with the country's best ice cream at Havnens Café & Isbar. Here even the guf (meringue foam) is the best and stirred with the utmost care and love, so there is energy all the way around.
You can also try fresh fish dishes from Juelsminde Fisk or explore the menu at Restaurant Færgegården.
Hand in your treasure map and get a medal
When you have been all the way around, you hand in your treasure map again at Buchs Boghandel. Here the little ones get a specially made medal to take home as proof of their great achievements, and with their stomachs and heads full of exciting experiences!
Download the treasure map here.