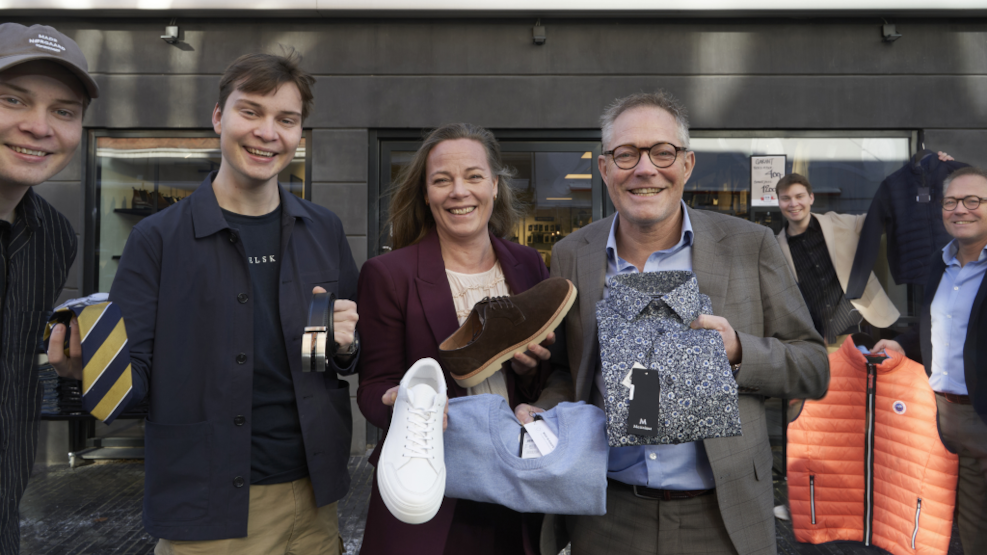 Well-dressed (Velkædt - Din Tøjmand Odder)
This local centre of men's fashion is located in the centre of Odder. Here, you will find clothing for any occasion for the fashion-conscious gentleman. Come in and see all the new styles and get well-dressed.
Modern and tasteful clothes for men and boys
Well-dressed is the place to go for fashion-conscious men of all ages and sizes for updates to the wardrobe with new collections from well-known brands. With its central location in the middle of the local shopping street, this new men's fashion store is a must when shopping in Odder.
No matter if you are looking for clothing for work, parties, relaxing clothes for the Sundays at home, or maybe a new belt or a pair of shoes, the personnel is ready to guide you to the perfect purchase. At Well-dressed they believe that good service never goes out of fashion. They take great pride in making sure that you will be guided to the perfect purchase that matches your individual style.
The store has a carefully selected assortment of strong brands. At Well-dressed you can find the popular, sustainable clothes from ELSK. You can also find this season's new collections from Mads Nørgaard and quality shirts from Olymp.
Din Tøjmand
Well-dressed is a part of the chain Din Tøjmand – a national chain of men's fashion stores. Din Tøjmand celebrates the trendy aspect of being ordinary and dresses all Danish and International men with comfortable clothes. The store in Odder benefits from the chain's cooperation with well-known brands. Therefore, you can for example find brands such as Matinique, Marlboro Classic, Brax, Gabba, Bjørn Borg, Digel, Fynch-Hatton, and Eton at Well-dressed in Odder.
Opening hours
Well-dressed – Din Tøjmand Odder is open Monday-Saturday every week. On their website you can see the exact current opening hours. Here, you can also take a look Din Tøjmand's assortment before visiting the store in the heart of Odder.
Shopping in Odder
Odder offers a surprisingly exciting city centre for a town with only 11.000 inhabitants. There are many exciting specialty store and restaurants with outside service at the pedestrian street Rosensgade and the surrounding town squares. Here, the locals and the many tourists of the Odder Coast gather for shopping, experiences and enjoying life.
You can find more information about activities and experiences in Odder on this page.
Destination Kystlandet © 2023