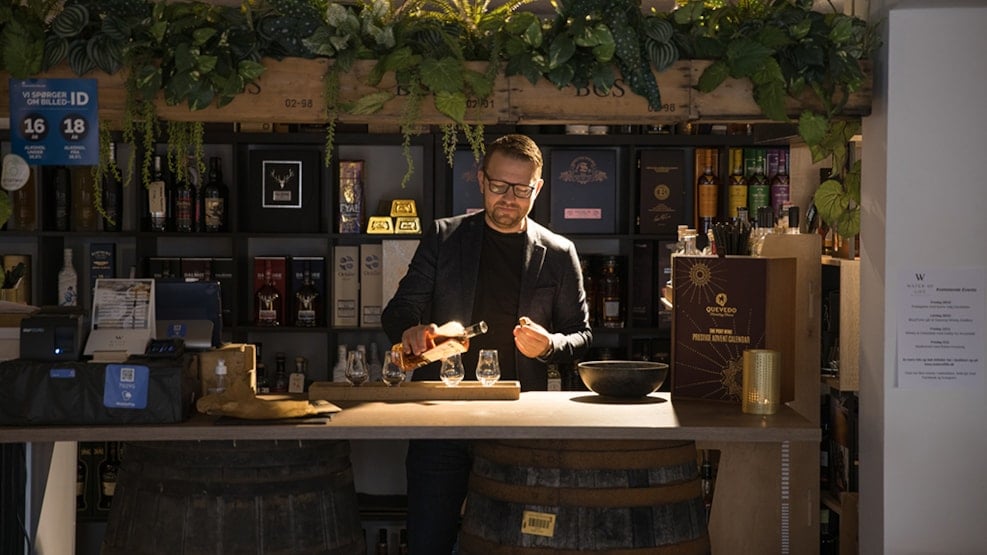 Water Of Life / Vin & Vin Brædstrup
Water of Life is Bakkelandet's whiskey, spirits, and wine expert. In the store, you can get excellent, competent service from the knowledgeable staff. Tastings and other events are also regularly held here, where you can get a unique insight into the world of the red and golden drops.
A wonderland for whisky lovers 
Water of Life is located in the town's main square, Mejeritorvet, in the center of scenic Brædstrup in Bakkelandet north of Horsens.
This combined shop and showroom offers a wide range of whisky, gin, rum, wines, cognac, liqueurs, port, and champagne. Here, the goal is to deliver the market's best products within these categories - at a fair price.
The name Water of Life refers to the fact, that the word whiskey originally means water of life. And it was precisely the passion for good whiskey that inspired owner Theis Steen Hansen to open his webshop with an accompanying showroom. Whether you are into Speyside, Lowland, Denmark, or somewhere else, you will always find a large selection in this specialty shop.
Wine for the small and big moments in life
Water of Life has become a part of the commercial chain, Vin & Vin, therefore, you can also enjoy their large selection of quality wines from all corners of the world. Here, you will find something for every taste – regardless of whether you like sweet or dry or have a preference for a particular grape. Come into the store and let yourself be guided to the right purchase for any occasion.
Tastings and other events
Water of Life regularly organizes tastings and other events at the store in Brædstrup. Tastings of whiskey, wine, rum, and gin are arranged throughout the year. The tastings have a limited number of participants. If you haven't got time for a course, Water of Life also offers service and expertise during conventional opening hours - or, outside the store at exclusive private tastings for e.g. customer or staff course evenings. Feel free to call and let yourself be inspired for your next event.
Quiz nights and other events are also regularly available.
See all events at Water of Life here (opens in Danish). 
See more on the webshop
If you don't have the opportunity to come to Brædstrup, you can always visit Water of Life's large webshop, which offers a large selection of quality whiskey and many other types of spirits. There are also many Danish varieties on the digital shelves – from Stauning whiskey to locally produced beer and rum.
But... we would absolutely recommend a trip to Brædstrup. It is a really charming town with several other specialty shops, beautiful scenery, and great places to eat.