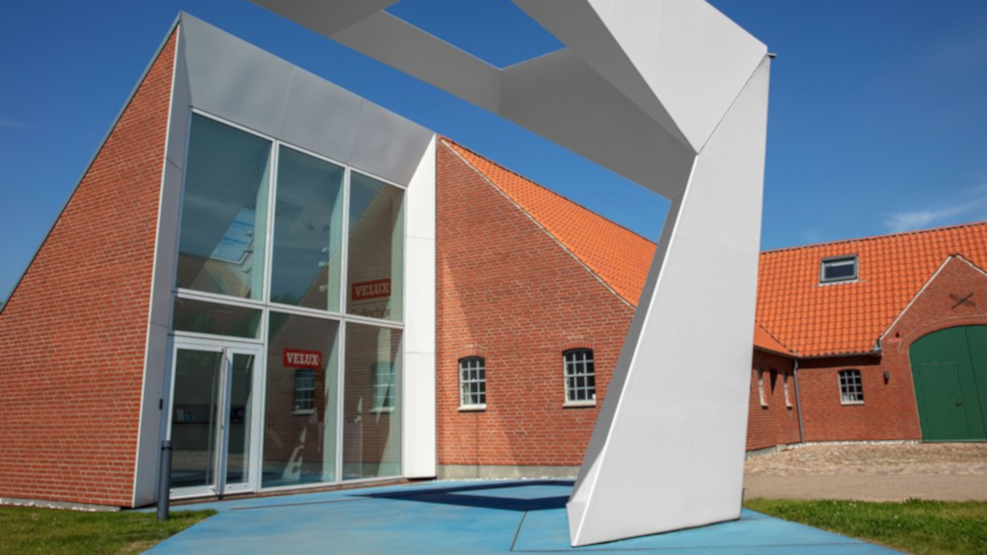 VELUX Collection
Come and hear the exciting story about a small Danish window manufacturer that turned into a global market leader. In this visitation centre, you will learn a lot about a one of the most important companies in local industrial history through interesting exhibitions.   
The story of your skylight
Have you lived on the top floor of a property? Then you have most likely had skylight windows from VELUX. This company, whose first factory was established in Østbirk near Horsens, is by far the biggest global manufacturer in the industry to such an extent that the company name is often used to describe the type of product.
VELUX have provided daylight, fresh air, and a good indoor climate to people all over the world for generations.
But the journey to where the company is today was long. Like many other companies, they started out small as an entrepreneurial business with big ambitions. VELUX started at a very difficult time – 1941, a time of war.
VELUX is modern, Danish industrial history, and at their visitor centre, you can learn more about the company history, the industry, the founder, and feel on your own body how the skylight has changed life under the roof.
Follow the blue path
The visitor centre is located in a three-winged farm that used to be the closest neighbor to the VELUX factory. You can follow the blue path from the parking lot to the exhibitions.
The main focus of the exhibitions is founder Villum Kann Rasmussens 75 year old idea about making a skylight window out of wood covered in metal, and his vision to create a model business that improve people's health and well-being by the means of daylight, fresh air, and a good indoor climate.
You can see the exhibitions "Product- and company history", "Bringing Light To Life", and "The Journey through time". Together they tell the story of VELUX, and the function, development, and significance of their products.
Come along for a guided tour
You can visit VELUX Collection on one of the guided tours that will be announced on VELUX' website. The price is 50 DKK per person including coffee/tea and cake.
Groups can always contact VELUX and book a guided tour. Contact VELUX Collection at veluxvisitorcentre@velux.com if you wish to visit the exhibition.
VELUX is located in an area with lots of cultural historic attractions, and you can easily combine your visit at VELUX Collection with a short trip to other nearby experiences. One of Denmark's biggest nature attractions, The Uncovered Bridge, Vestbirk Hydroelectric Plant, and The Monastery Mill. And at The Industrial Museum in Horsens, you can learn more about the local and national industrial history.
Destination Kystlandet © 2023