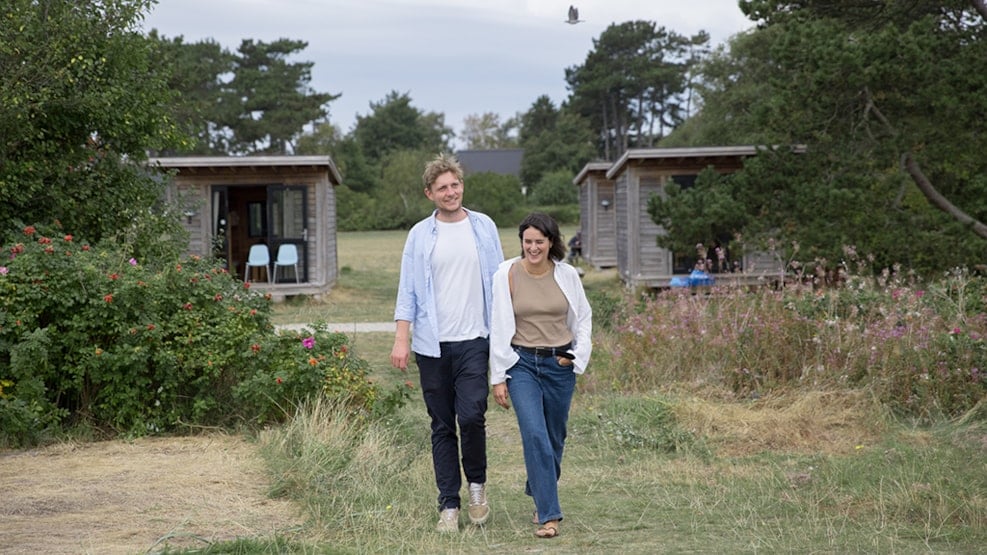 Tunø Campsite (Teltplads)
Stay overnight in a charming seaside-cabin or in your own tent on the car-free island of Tunø. With a location right by the island's harbor and a magnificent beach, you'll be close to Tunø's attractions in cozy surroundings.
Affordable accommodation on the holiday island in the Kattegat
The location is absolutely fantastic at Tunø Camping. Here, you can pitch your tent right on the sandy beach with a view of the sea and the gentle lapping of the Kattegat as a backdrop. Alternatively, you can choose to book one of the cozy camping cabins where you can close the door and sleep in a real bed. Regardless of your choice, you'll have access to the campsite's facilities and be just a few steps away from the lively harbor and peaceful nature.
Summer cottage atmosphere in miniature
If you want a roof over your head and a comfortable bed to sleep in but don't have any additional facility requirements, the camping cabins at the campsite may be the solution for you. They have two bunk beds, providing a total of four sleeping spots, as well as a dining table. Outside, there's a small terrace, but no further amenities. You'll need to bring your own duvet, pillow, towel, dishcloth, cookware, cutlery, and towels.
However, you'll have access to a shared toilet building, kitchen, and bathing facilities.
It's also possible to book a wheelchair-accessible cabin with four single beds.
On this page, you can book one of the cozy wooden cabins at Tunø.
Sleep in a tent by the water
Camping at Tunø Camping is quite straightforward. You don't need to book in advance; you simply show up and pitch your tent wherever there is space. The inspector visits once a day to collect payment. When you're camping, you'll have access to the same facilities as those who have booked cabins, meaning you can take a shower and cook in the kitchen.
Prices
Campsite:
Adults: 63 DKK per night (applies even for empty tents)
Children: 26 DKK per night
Cabins:
Cabin per night during school holidays: 469 DKK
Cabin per night outside of school holidays: 366 DKK
Cleaning after rental: 157 DKK
Nearby experiences
Right next to the campsite is Tunø Harbor, where the island's ferry passengers and boat owners gather. Here, you'll find Tunø Smokehouse, where you can purchase smoked goods or enjoy a meal. There are also vegetable stalls, a nice playground, and cozy areas for barbecuing.
The hiking trail around Tunø passes through the campsite. This 8-kilometer-long hike is exceptionally beautiful, with many stunning viewpoints and several high cliffs. If you're with children, you can participate in the treasure hunt around the island and receive a medal as proof.
On Tunø, you can walk on the roads without worrying about traffic. Read more about experiences on the car-free island of Tunø here.
Destination Kystlandet © 2023