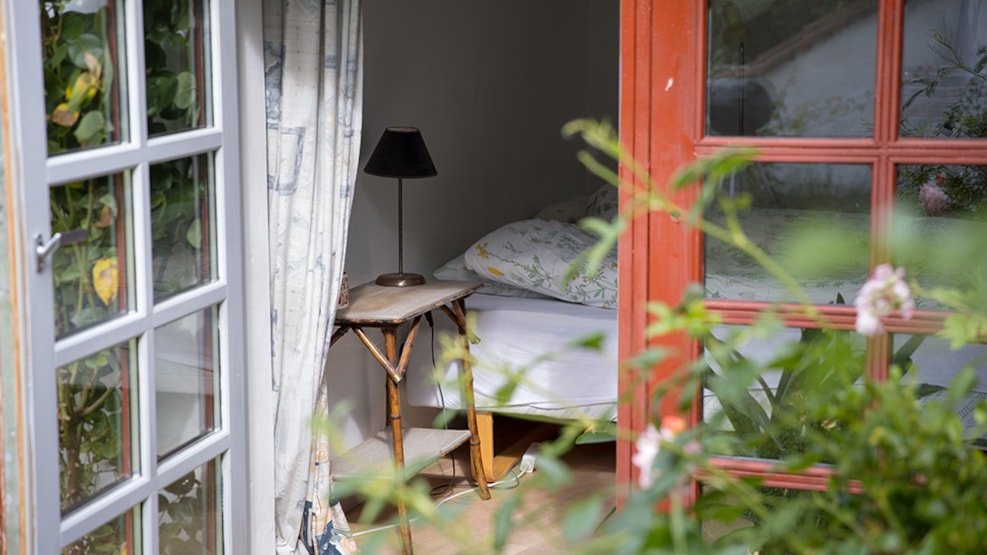 Skippergården B&B
This bed & breakfast is located in the heart of the island Endelave. Relax in the idyllic surroundings and explore the little art gallery with art by the host Lene Iversen.
Unwind on the island of rabbits
Skippergården, an old half-timbered farm from 1777, is located close to Endelave's harbour, atteactions, and restaurants. The farm is the perfect base for your stay on the holiday island where you can relax, enjoy nature, the wild rabbits, and the island atmosphere.
Breakfast as well as own bathroom, and Wi-Fi is included when you book one of the rooms on the farm.
Endelave Flet
Owner Lene Iversen is a professional chair weaver. She weaves Poul Kjærholm chairs and also offers to reweave or repair his PK chairs for private. So, if you are the lucky owner of one of the lovely Poul Kjærholm design chairs in need of a loving hand, then consider bringing it to Endelave and combine weaving with an unforgettable stay on the gem of the Kattegat, Endelave.
Book your stay
Contact Skippergården B&B by phone or mail with your enquiry and book your stay in historic and beautiful surroundings at Skippergården on Endelave
Explore Endelave
On Endelave you can look forward to unique, preserved nature, and cosy Danish island atmosphere. Go for a walk around the island on the popular hiking route, the Kanino, or rent a bicycle or a golf cart at the harbour – or explore the island from the back of an Icelandic horse. In the village you will find restaurants, small shops with local products, and attractions – and you are never far away from the nearest sandy beach.
You can find inspiration for your stay on Endelave on this page.
Destination Kystlandet © 2023