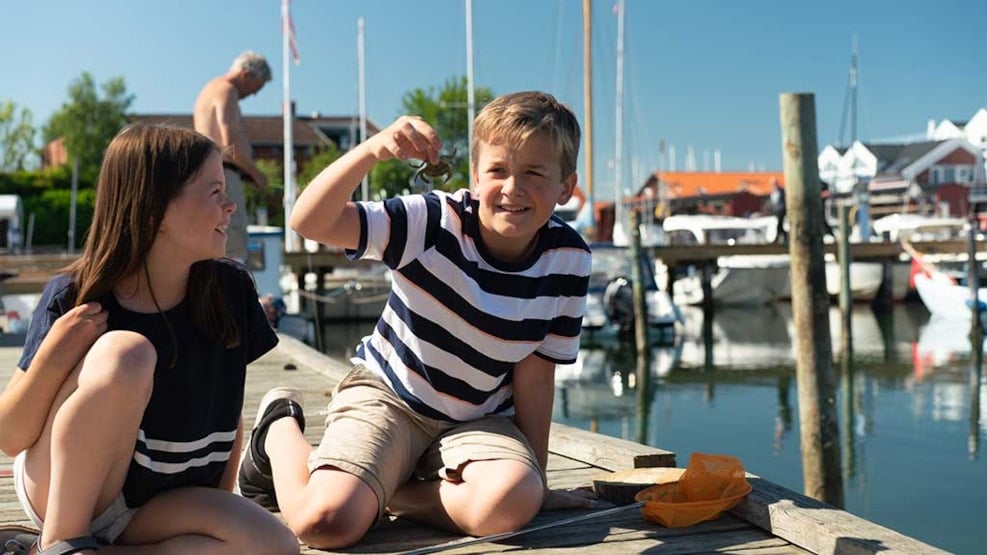 The playground and crab bridge at Juelsminde Harbour
This popular playground in Juelsminde with a crab bridge and a crab race track is found at a central location at the cosy and lively harbour. Surrounded by ice-cream parlours, eateries, and masts, it is easy to keep an eye on the children while they are playing in safe surroundings.
The marina playground
This cosy and well-visited playground at the heart of the marina, has lots of room for play and relaxation in the sun. Surrounded by the harbour's many ice-cream parlours, eateries and harbour shops, it is possible for parents to enjoy the sunlight while keeping an eye out for the children.
The centre of activities on the maritime playground is a lot of playground equipment placed in sand.  There is a tower here with a rollercoaster, a gangway, and a ropes course. There is also a swing set, seesaws, a miniature excavator, water play equipment, and an unusual frame with two buckets that children can use to raise sand into a big pot. The playground is best for small children who will undoubtedly have a good time with alle the fun playground equipment.
Which crab comes first?
A few steps away, at the water's edge, the popular crab bridge allows children and childlike souls to fish for crabs. You can often see children and their parents stand on a line trying their luck, and luckily there are lots of crabs in the water.
Catching crabs does require complicated equipment. You can tie a clothes peg with a piece of sliced meat or a clam to a cord, and that should give you a good chance of a catch.  You can borrow a homemade crab fishing rod at Havnens Café & Isbar. And if might get a clam as bait if you ask politely at Juelsminde Fisk
Once you have caught a crab bring it to the crab race track where you can compete and see which crab is fastest to get back in the ocean.
Around the playground
The playground is surrounded by ice-cream parlours, restaurants, and beach shops, but still well-sheltered from traffic and other activities in the area. The restaurant rich in tradition, Restaurant At The Harbour (På Havnen) is places next to the playground. Here, you can sit and enjoy a meal with an ocean view. They often play live music here during summer. We recommend going on a short hike through the marina to The Great Beach which has a new bathing jetty and a lifeguard tower. Also, visit Juelsminde Harbour Museum (Havnemuseum) where you can learn about local history and try sailing a ship in the harbour with the amazing ship silulator.
Find more information about the harbour on this page.  
Why not try the nature playpark too?
Children love Juelsminde! Even more so after the biggest playground in East Jutland was built here. With Tofteskoven Forest and Hotel Juelsminde Strand as its neighbors, this huge playground has activities for children of all ages. So why not combine your trip to the harbour with Juelsminde Nature Playpark?
Destination Kystlandet © 2023