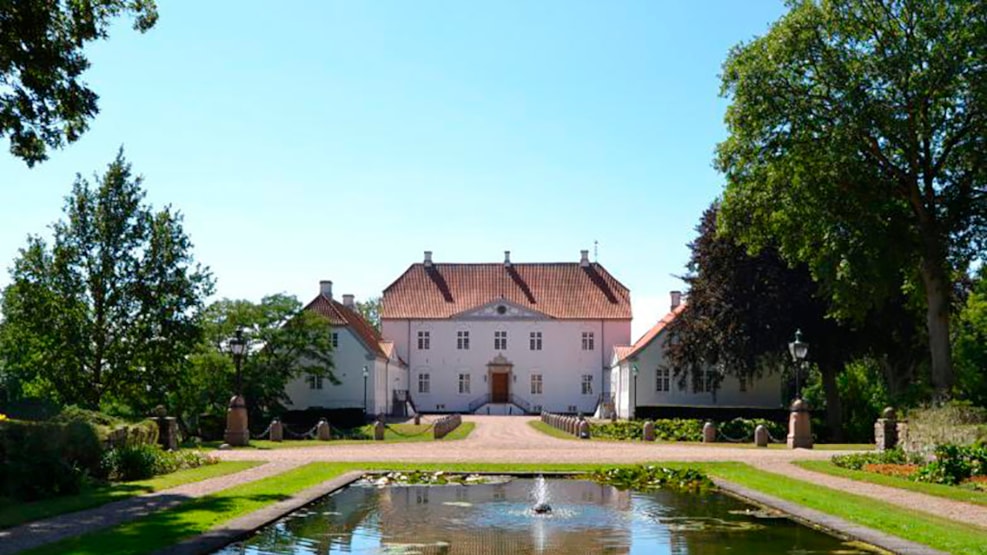 Palsgaard Castle Park (Slotspark)
Near Juelsminde, you will find one of the Denmark's biggest and most beautiful manors, Palsgaard Castle. Visit the park and become mesmerized by the beautiful manor, the lakes and the rare tree sorts. Enjoy the sculptures and the old charming buildings.
Cultural history at its finest
5 kilometres north of Juelsminde, you will find one of the area's most stunning places to visit. The park, which is open for visitors during the day, includes 31 acres of beautiful landscaped gardens. Throughout the park, you can find six small lakes and a large variety of rare trees and plants, which were brought home from faraway lands by the former lord of Palsgaard during the 1800s. By the trees, there is a little sign explaining the tree's species. 

Throughout the entire park, you can find a variety of beautiful artwork. All of the sculptures blend nicely into the idyllic scenery and gives a nice contrast to the old romantic buildings and the beautiful landscaped nature.
In the centre of the park, you will find Palsgaard Castle, whose history goes back as far as the 1200s. The grandiose three-winged manor, which is surrounded by water, received its present appearance during a big renovation in the 1800s. Besides the castle, you can see a variety of old yellow washed timbered farm buildings, both inside and outside of the park.
The new forest garden
The old castle park has recently been expanded with a 10-hectare forest garden, serving as a modern reinterpretation of the romantic castle park. The forest garden, named Humlehaven, is designed with pathways, clearings, and a small forest lake. The main attraction, however, is three sculptures by the renowned artist, with more on the way. By 2025, there will be seven Nørgaard sculptures scattered throughout the forest garden.
Grab a musical in the park
In the middle of the park, you will find the scene of Palsgaard Sommerspil. Here the annual musical is performed under the summer sky. The annual show is a crowd-puller and equals summer for many locals. A big part of the audience use the time before the show sitting on the grass enjoying a nice picnic in the marvelous surroundings.  
How to find Palsgaard
Palsgaard lies near the village of Hosby. If you drive on Gludvej, the main road between Horsens and Juelsminde, you will see signs pointing towards Palsgaard. Drive past the factory and the old yellow washed farm buildings on Palsgaardvej and you will come directly to the parking lot at the park entrance.
Visit Palsgaard while following the Coastal Path
The Popular hike the Coastal Path Snaptun- Juelsminde goes by Palsgaard. It is worth a short detour visiting the park and experience the beautiful avenue towards the castle. 
Are you looking for similar experiences?
There are many wonderful parks and gardens in the Coastal Land. Find inspiration here.
Destination Kystlandet © 2023