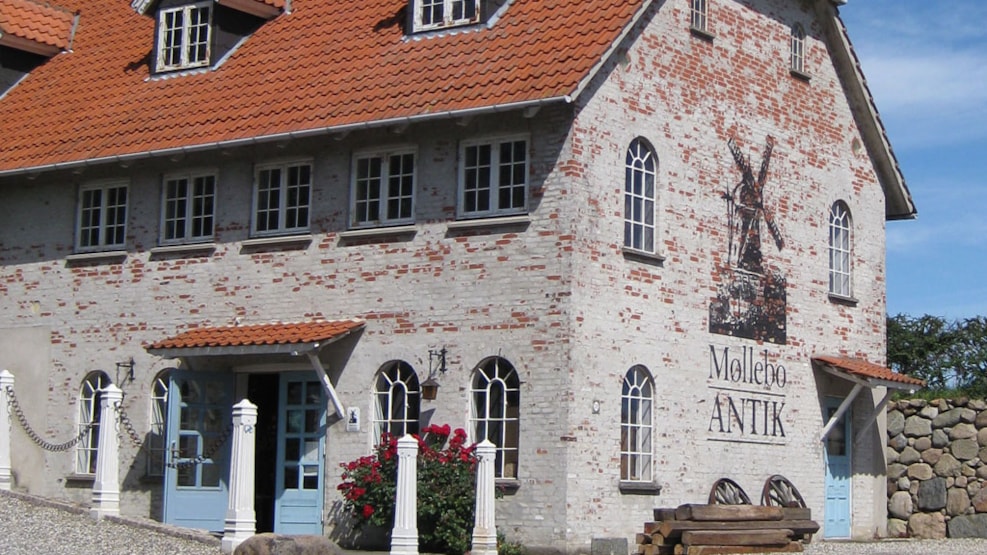 Møllebo Antik
Visit Eastern Jutland's largest antique dealer in the village Sondrup where the owner has spent a lifetime collecting old quality furniture and decorations. In the store, you can see some of the gems of the collection and admire the owner's handcrafted furniture.
A hotspot for antiquities in lovely nature
In the hilly landscape of Sondrup Hills, on the north side of Horsens Fjord, you can visit this remarkable store. Møllebo Antik has a history dating back as far as 1965 – almost 60 years of expertise and passion for handicraft and traditions is the foundation of this big antique dealer. The owner Erling Larsen has a lifetime of experience as a cabinetmaker, and he upholds the old methods and traditions.
According to Erling, he has furniture and antiquities for 100 homes. When visiting the 2000 square metres of store, stockroom, and workshop, you can take a look at the many old, unique quality items, each with its own soul and identity. Many of the items for sale are from the local area, and have their own special story, that Erling will gladly share with great insight.
Restoration of old furniture
The owner of Møllebo Antik has spent the last 40 years mastering different techniques of a joinery. He has great experience in restoring and repairing wooden and designer furniture. Most of the furniture in the store are repaired by Erling. Feel free to check out the stockroom, where you can find a lot of old furniture in need of a loving hand. Erling is ready to restore them so they can adorn your home.
You can also bring your own old furniture – you can book Møllebo Antik for restoration.
Get your own unique furniture
Would you like beautiful handmade unique furniture? Møllebo Antik is ready to tailor a solution based on your needs and wishes and their expertise. No task is too big or too small. Erling loves challenges and special orders.
Opening hours
At Møllebo Antik's website you can see the current opening hours. Please note that there are several weekly closing days.
Combine with a nature excursion
Møllebo Antik has an amazing location in the hilly terrain north of Horsens Fjord. A very short distance away is Trustrup Hills, where you can enjoy an amazing view of the fjord. Another nature area close by is Sondrup Hills/Plantation which is one of the region's most beautiful forests with several hiking routes. Before you go home, go to Sondrup Beach for a ducking from the bathing jetty. If you like rural farm shops, then stop  the organic farm Brandbygegaard which has its own vinery with delicious quality wine.
Destination Kystlandet © 2023