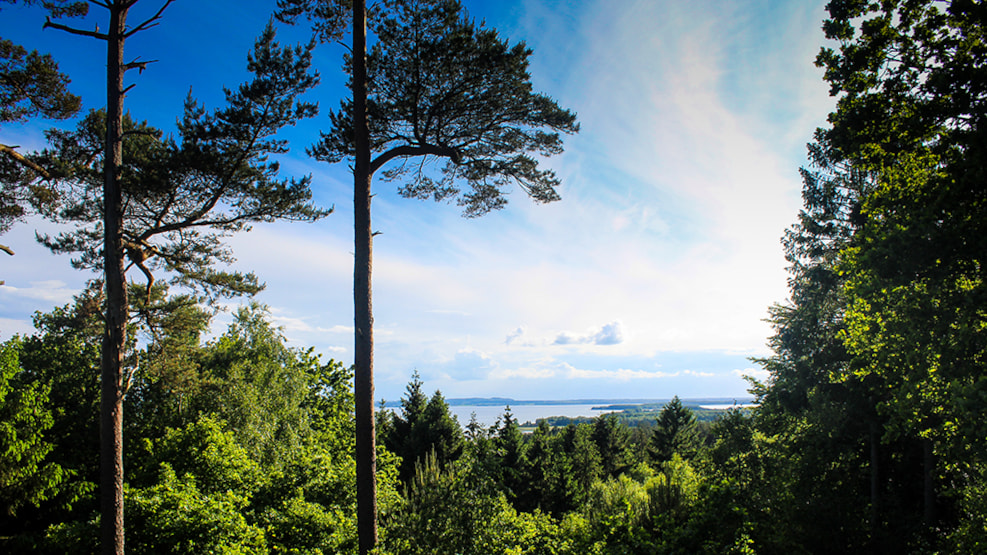 Sondrup Hills
Experience the unusually scenic and varied landscape at Sondrup Plantation on the north side of Horsens Fjord. The hilly and wooded terrain invites to walks in the deep, peaceful nature.
One of Denmark's most beautiful forests
One of the region's most impressive natural areas is located near Odder at Horsens Fjord. The deep forests of Sondrup Plantation are located in a very hilly landscape in an elongated range of hills that was formed during the last ice age. As you walk along the fine forest trails, you really feel that you become one with nature. There is no noise from traffic – All you hear is the birdsong, the rustling of trees, the waves of the fjord and the deep silence of nature.
The forest has signposted hiking trails that take you around both Sondrup Hills and Uldrup Hills. An obvious starting point is the car park at Sondrupvej at the western end of Sondrup Hills. From here, you can follow the 4.4-kilometre trail around Sondrup Bakker or combine it with the 5.4-kilometre route around Uldrup Hills. In Uldrup Hills to the east, you find a particularly hilly landscape with Blakshøj as the highest point on the route, 74 metres above the fjord.
Along the routes, you find information boards and tables/benches where you can enjoy your packed lunch.
View the routes in the forests on the digital map of the Coastal Land (Google Maps).
With a view of Horsens Fjord
Sondrup Plantation is located on the northern shore of Horsens Fjord. From several points in the forest, you enjoy excellent views of the fjord and its islands. Not least from Blakshøj. Not far from Sondrup Plantation you also find the vistas of the hills of Trustrup that also offer excellent views of the fjord.
Near Uldrup Hills, you find the island of Alrø which is connected to the main land via a dam. Alrø is known for its eateries - not least the nationally known giant patty shells. From Alrø, a small bicycle ferry takes you to the neighbouring island of Hjarnø. The bicycle ferry trip is part of the popular bicycle route that takes you all the way around Horsens Fjord. A walk in Sondrup Hills can serve as a good break from the long bike ride.
If you also want to visit the beach while on a picnic, Sondrup Strand is not far away but located at the end of Sondrupvej.
The area around Sondrup is characterised by agriculture, manors and cosy farm shops.
Do you feel like experiencing more natural gems?
Find inspiration for more nature experiences in the Coastal Land
Destination Kystlandet © 2023