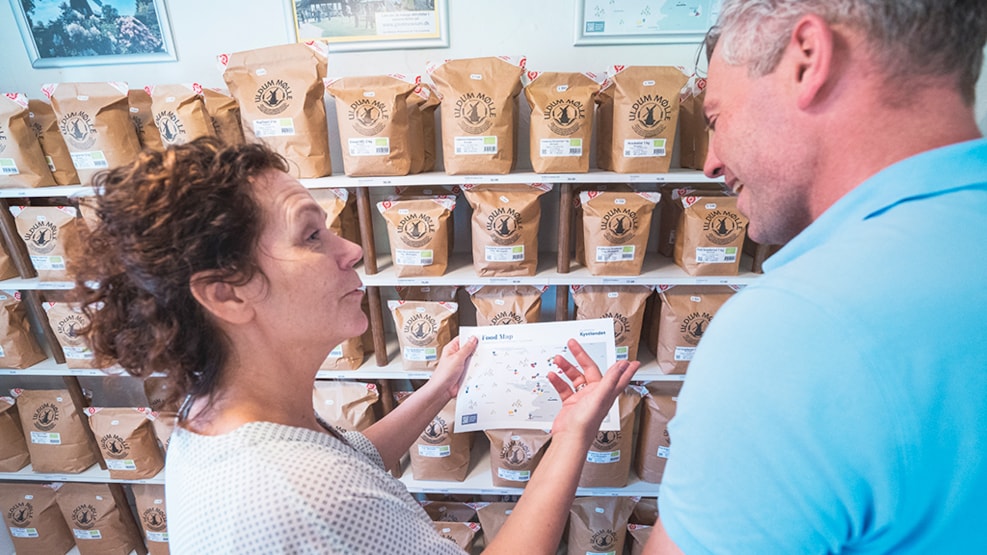 The mill shop at Uldum Mill Museum
In the Uldum Mill shop, you can buy organic quality flour which is produced in the old mill. You will also find an exciting selection of locally produced products and foods.
Old-fashioned flour production
In the old, beautiful mill in Uldum, you find this small shop that sells the flour and oatmeal produced in the mill. Flour has been produced here since 1894 when the mill was built.
In the old machine room, the three grinders of the mill work every day and produce many tonnes of flour every year. This production is 100 % organic and includes a wide selection of flour types. You can thus buy ordinary wheat flour, Oland wheat, durum, rye, graham and spelt. The products are available as whole kernels, rolled flakes, wholemeal and the finest ground flour.
Moreover, you can buy the popular mill-rolled oatmeal.
Locally produced delicacies
In addition to the products produced at Uldum Mill, you can buy a range of different products from local food producers. Buy e.g. honey from the local beekeeper or products from the local sweet boiler. Other specialties include honey, mean and insect snacks.
See how the flour is made
The shop is connected to Uldum Mill Museum and, as a visitor, you can access the production area and see how the flour is produced, from grain to the finished product. Take a walk around the historic mill and learn a little about its history and about milling.
Learn more about the museum here.
Opening hours
The shop is open during museum opening hours. The current opening hours can be found at the Uldum Mill website.
Interested in more local produce?
There are many shops in the area where their own production of food is sold. At this website, you can get inspiration for an authentic, locally produced souvenir or gift.
Destination Kystlandet © 2023