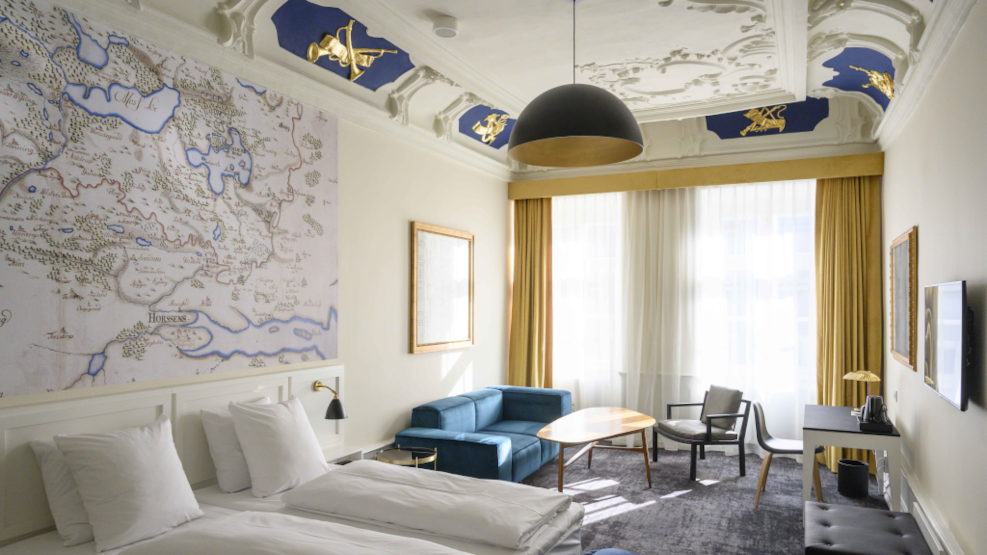 Jørgensens Hotel
In Historical settings in the heart of Horsens your will find Jørgensens Hotel with a splendid view of the lively pedestrian street. The beautiful mansion is furnished as a modern Hotel still in touch with its long history. A stay in Jørgensens Hotel is a lavish experience.  
Accommodation in the centre of Horsens
Jørgensens Hotel offers an exceptional location in the centre of Horsens in the middle of the widest pedestrian street in Denmark. Since the hotel is located in one of the most historic buildings in one of the oldest cities in Denmark, it is a special experience to stay at the hotel.
The building Det Lichtenbergske Palæ is a special place for the local inhabitants. It is a gathering point for people from Horsens and its surroundings – and the natural choice of accommodation for the many people who visit Horsens during the year for large cultural events or go shopping in the city centre.
Jørgensens Hotel is a well-managed modern hotel in touch with its famous history and the present at once. Here you will find all the modern facilities that you are looking for. The restaurant at the hotel will be a place where people can stop by for dinner, feel the historic atmosphere in the old building and enjoy the local ingredients and cuisine. 
Culinary pampering
Restaurant Eydes is located in the arched basement below Jørgensens Hotel - an eatery where guests want to stop by for a meal. Here, they serve good food for locals, tourists, business men/women, couples in love, and the quality-conscious.  For lunch, for dinner, on workdays and special occasions. 
Make sure to also visit the beautiful wine bar where you can meet for a glas of wine, a cup of coffee, or some snacks. In connection to the wine bar, there is a big wine shop, so you have the option to bring home with you, the delicious wine that you tasted in the wine bar. 
The historic building
The building in which you find Jørgensens Hotel (Det Lichtenbergske Palæ) was built in 1744 as a residence for the successful noble merchant Gehrdt de Lichtenberg and his family. The beautiful baroque mansion has many distinctive architectonic details both inside and outside. Above the stunning doorway you can see the German words "Wass Gott Beschert Uns Niemand Wehrt". In 1749 King Frederick V of Denmark stayed the night in Det Lichtenbergske Palæ. On this occasion de Lichtenberg was appointed Councillor of State by the King.
After de Lichtenberg passed away the building was used as an inn from 1813. In 1849 Anders Jørgensen bought the mansion and gave it the name Jørgensens Hotel. He made the building available for the city's inhabitants. It was a special place for special occasions. Since then, Jørgensens Hotel has been a place where locals and tourists can enjoy themselves, experience great service and be enthralled by the impressive surroundings.