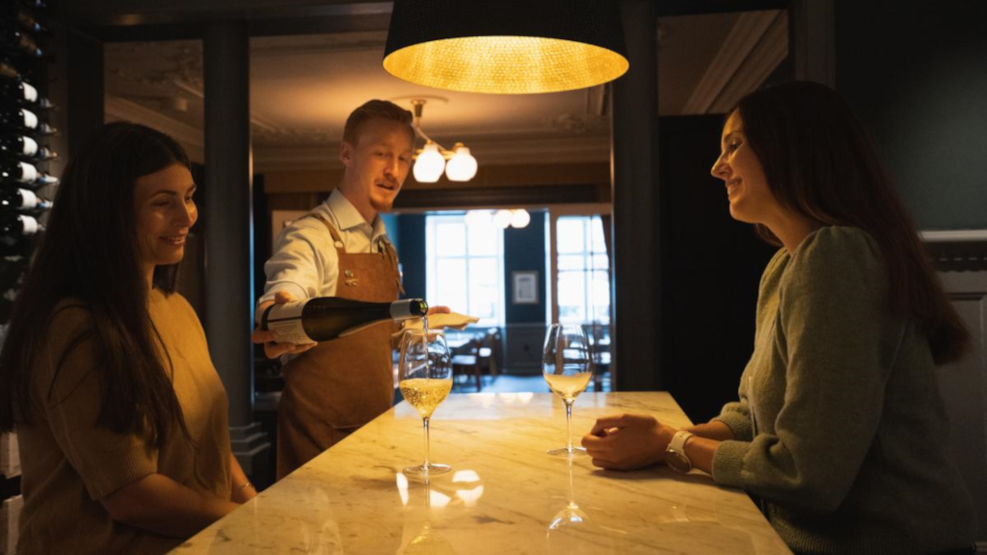 Jørgensens Hotel's wine bar and wine store
Jørgensens Hotel's wine bar is a cozy gathering spot for locals and tourists who want to unwind and enjoy the classy atmosphere in the historic building. You can choose between a supply of wine, cocktails and snacks. In the impressive adjoining wine store you can find the perfect gift or quality wine for your dinner party.  
Cosy wine bar in historic surroundings
You can find Jørgensens Hotel's wine bar in the beautiful sitting rooms of the old mansion overlooking the pedestrian street. Here, local citizens and hotel guests can meet for a glass of wine, a beer, a cup of coffee or one of the tasty cocktails.
You can also relax in one of the big sofas or admire the art on the walls and the ceiling.
The comprehensive bar menu offers charcuterie, cheese, sausage, caviar, oysters and much more.
A bar made with love - in the heart of Horsens.
Bring the wine home
In the adjacent rooms you will find the hotel's own wine store - the place to go if you are looking for a nice bottle of everyday wine or a bottle of exceptional quality for a special event. 
You can also get guidance and advice for finding the right bottle. Most often you are allowed to taste the wine before buying it. Feel free to walk around and enjoy the atmosphere in the beautiful surroundings between more than 3,500 bottles. 
The wine store regularly hosts wine tastings as well as gin-, rum- and champagne tastings. 
A cosy store in the middle of the beautiful historic mansion, "Det lichtenbergske Palæ".