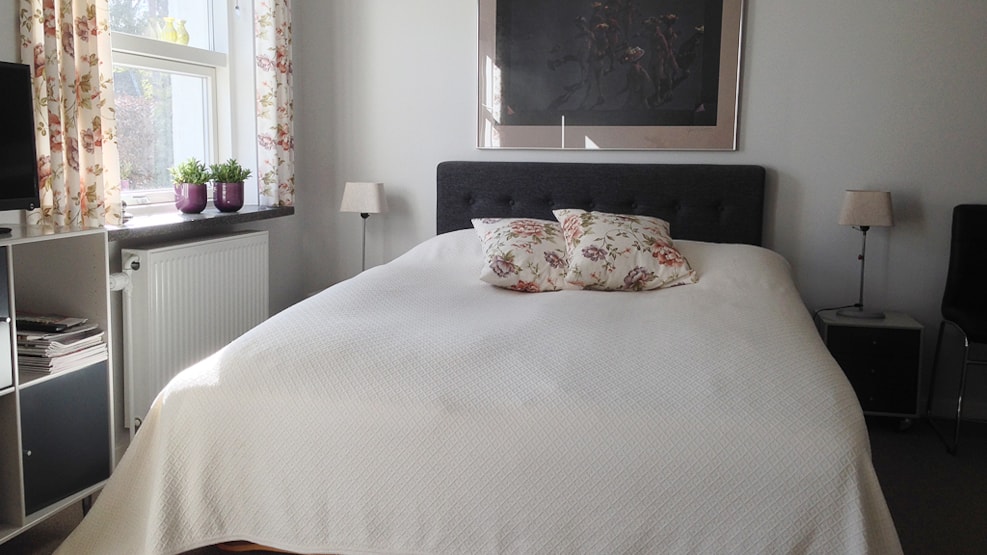 Jessie´s B&B
This bed and breakfast in Horsens is located only a short walking distance away from the city centre and the beach Langelinie. At Jessie's you can rent a lovely double room for one night at a time. 
A good choice for private accommodation in Horsens
Not far from the centre of Horsens you can find this little bed & breakfast in a private residence. As you drive down the basswood avenue in the hospital neighbourhood you will undoubtedly feel the relaxed single-family house atmosphere despite the close proximity to the centre. Horsens Marina and the popular beach Langelinie which is always lively in the summer period is found at the end of the road. It does not take long to get to the centre with its many eateries and shopping options – it is only 1,5 kilometres away. The city bus stops right outside the door which makes it easy to get around without having to find a parking space in the centre. Jessie's B&B is also located close to most of the interesting museums in town such as The Industrial Museum, and Horsens Art Museum as well as the hiking route, The Fjordmino.
Sleep well in a spacious room
Jessie's B&B is a cosy one-storey house with red bricks. There is one spacious 20 m2 room available for rent. The room has its own entrance from the garden, so you do not have to walk through the private residence to get to the room. The room is equipped with a comfortable double bed. There is also a refidgerator, a microwave oven, a kettle, and a small table with chairs. The bathroom is found in the hallway and is shared with the host.
There is access to the garden and a lovely patio with a view of the fjord.
Book accommodation at Jessie's B&B
Contact Jessie's B&B to hear more about prices and availability. The room can be rented on a daily/weekly basis. Coffee/tea, wi-fi, and linen is included. Jessie's B&B is well-suited for single travellers or couples who are in Horsens for a city break, but also workmen who are in the area for a longer period.
Explore Horsens
Horsens is a cosy commercial town and a city in disguise. It has a beautiful historic but modern city centre with many exciting shops and cafés. Horsens is a lively town with a vibrant cultural life – from everyday culture to mega events and stadium concerts with the most famous artists in the world. Jessie's B&B is found close to the local venues and is always accessible when there are major events in town.
On this page you can find inspiration for experiences in Horsens.
Destination Kystlandet © 2023