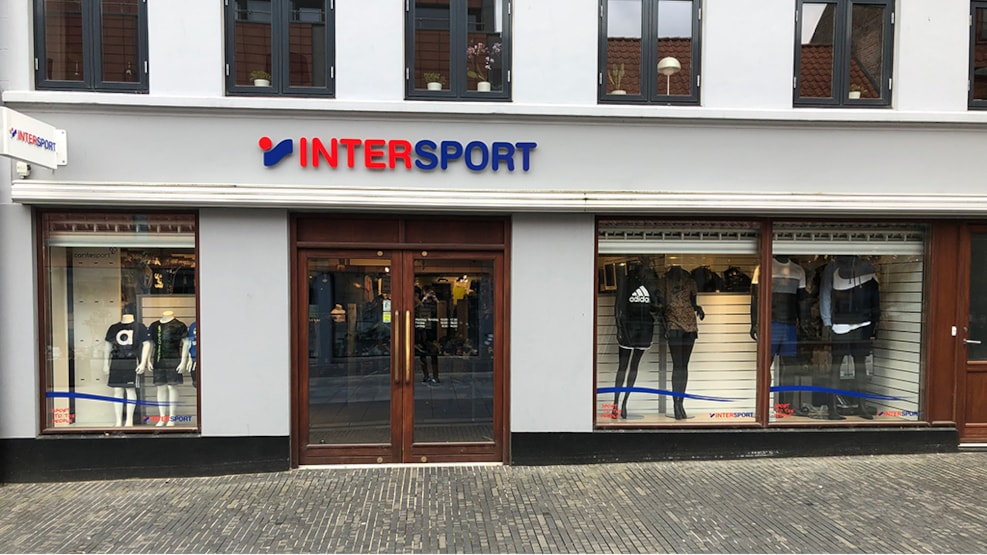 Intersport Odder
In the middle of the pedestrian street Rosensgade in Odder, you can visit the local sporting goods shop with clothing and equipment built to withstand all elements. Here, you will find hiking boots, sweatsuits, sleeping mats, and much more.
Equipment and clothing for an active lifestyle
Intersport has a wide selection of clothing, equipment, and shoes for a multitude of different sports and outdoor activities from the biggest international brands. You probably know that already – Intersport was not exactly invented in Odder. It is a world-famous brand with more than 5.800 shops in 45 countries which makes them the biggest sporting goods retailer in the world.
At Intersport you get the same good experience no matter if you are in Amsterdam or Odder. The dedicated staff will always treat you as equal. It is both your global and local sporting goods store.
Assortment and brands
Intersport Odder has the equipment for almost any physical activity imaginable. Here, you can find clothing and shoes for running, cycling, fitness, and ball games. This is the place if you need a windbreaker, a ball pump, or a bikini for the coastal holiday – the sleeping bag, rucksack and trekking shoes for the outdoor holiday – and of course a new pair of football boots, a skateboard, or a running top.
Intersport cooprerates with the biggest sport manufacturing brands. You can find the newest collections from Nike, Adidas, Puma, Hummel, Häglöfs, and New Balance on the shelves.
Opening hours
Intersport is open Monday-Saturday during the day. You can see the exact current opening hours on Intersport's website.
The city centre in Odder has an interesting selection of shops, activities, and eateries. Get inspiration for experiences in Odder on this page.
Visit Strandshoppen
The best beach on the east coast of Denmark is located only a few kilometres from Odder. The store Strandshoppen is located here. In addition to delicious café dishes, beach equipment, groceries, and a miniature golf course Strandshoppen also has sporting goods from Intersport Odder – often at favourable outlet prices.
Destination Kystlandet © 2023