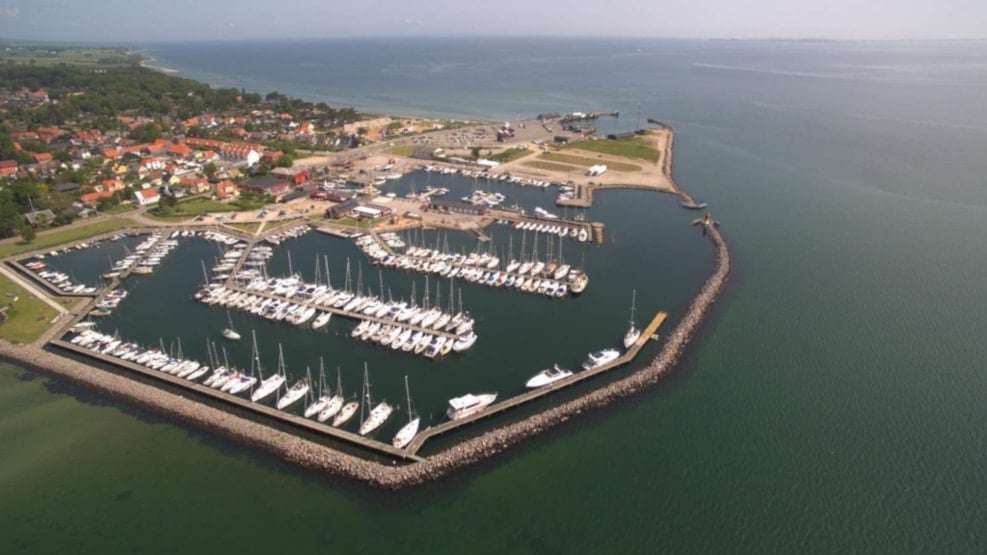 Inshore fishing in Hou
There are excellent conditions for fishing along the coast in and around the port town of Hou. Both at the extensive port area and along the beaches on either side of the harbour, one can catch sea trout, garfish, flatfish, and mackerel.
Fishing at the Harbour
At Hou Harbour, there are excellent opportunities for classic harbour fishing where you can access deep water without needing waders. Fishing here is quite diverse, offering good chances of catching herring, mackerel, and flatfish in season, while sea trout fishing is good year-round. Sea trout can be caught throughout the area. There's good fishing with bubble floats for herring and garfish from the outer pier. In the shallow area south of the harbour, massive schools of garfish can be experienced.
The harbour is a great spot for fly fishing for garfish. During the colder periods, you might encounter good cod fishing, although this is quite unpredictable. Plaice are caught in easterly winds on the outer side of the north pier, best when sunset coincides with high tide.
In recent years, the area has been invaded by mackerel in August and September. They are fished from the outer piers in the morning and evening. If possible, a good mackerel fishing experience can be had from a dinghy a few hundred meters from the harbour.
West of the harbour at Ravnskoven Forest
On this side of the harbour, there's good fishing in the spring for sea trout and garfish. The area is shallow, requiring wading. It's a classic spot intensely fished for garfish in season. Additionally, it's a great spot for shrimping.
It's possible to park where Strandgade takes a 90-degree turn. A small footpath leads to Ravnskoven Forest, but you can also choose to go directly down to the water.
North of the harbour at Hou Søsportcenter
This fishing spot is very similar to Hølken Beach (mentioned below), a bit further north, and in practice, fishing can be done over mixed ground along the stretch between Hou and Hølken. The area is easy to read as you cast into small "bathtubs" where sea trout often reside. In periods, especially in spring, there's fine fishing for sea trout and ample opportunity for garfish in season. Plaice can be caught in easterly winds on this stretch, best at high tide, preferably at sunset. A fishing experience that peaks from September to November.
There are ample parking opportunities in the area near Vandhalla (indoor swimming pool).
Fishing at Hølken Beach
2.5 kilometers north of Hou Harbour lies Hølken Beach. There's a camping site by the beach where parking is available. There are public toilets and good facilities. Hølken Beach is a very good fishing spot accessible from the shore. However, wading might be advantageous to reach further out. Larger fish often come close to the shallow water when the sun isn't high in the sky. Sea trout are caught in front of the grassy areas and towards the camping site. Plaice are caught in easterly winds and best at high tide, preferably at sunset. There are good chances of eel and cod as by-catch. Fish approximately 100-500m to the right, preferably with heavy gear in the surf. A fishing experience that peaks from September to November.
Other Fishing Spots in the Area
There are many other lovely and productive fishing spots on this part of the Jutland east coast. The nearest spots can be found in Saksild Bay and on the Gyllingnæs Peninsula.
On this page about coastal fishing in Kystlandet, you can find inspiration for your next catch on the Jutland east coast.
Need the right fishing gear?
Effektlageret is the local area's largest provider of fishing equipment. Aside from a large webshop, Effektlageret has a physical store in Horsens with a wide selection for all types of fishing.
Destination Kystlandet © 2023