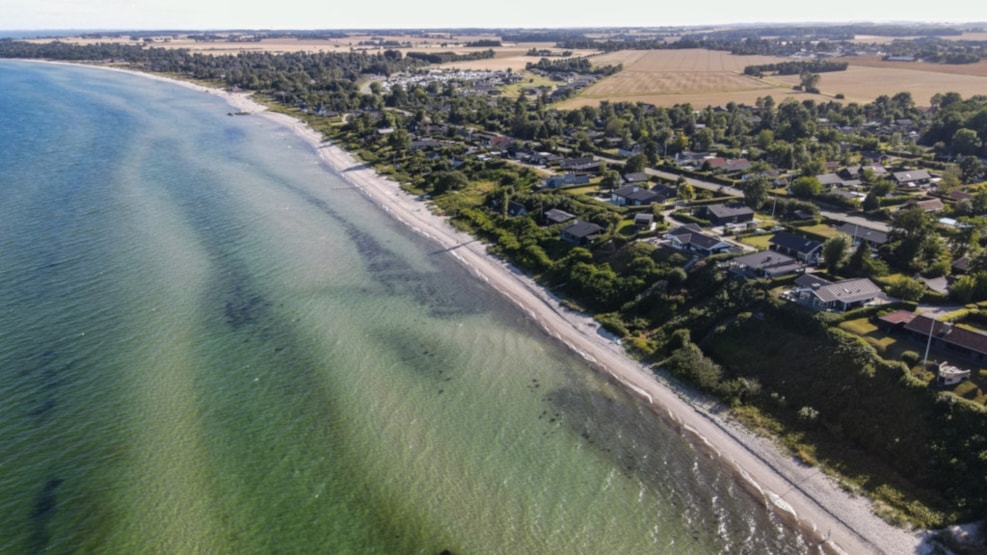 Inshore fishing at Saksild Bay
The Saksild Bay is best known for its fantastic beaches and numerous summer houses. The area offers excellent facilities for recreational fishermen with accommodations and shopping options. However, if you want a good catch, it's advisable to move a few kilometers away from the bustling beach hub.
Fishing in the heart of Odder Coast
The Odder Coast (the stretch between Hou and Norsminde on the eastern coast of Jutland) is popular among anglers and offers several excellent fishing spots. Accommodation is easy to find in this area due to the many summer houses and campsites with cabins. The concentration of bathers is highest around Saksild and Rude, but this inner part of the bay is not as favored by the area's fish. It's not that there are no fish at all—those who try fishing at Saksild can catch especially flounders, plaice, and garfish, but if you want to optimize your fishing opportunities (and avoid hooking Danish bathers), you should move a few kilometers north or south. From Saksild, you can walk to good fishing spots in both southward and northward directions.
Fishing at Dyngby Hage
If you look at a map of Saksild Bay, you can almost imagine where the best fishing spots are. As with many other bays, fishing is best at the end of the bay where reefs cause a particularly strong flow of fish.
2.5 kilometers south of Saksild Beach lies Dyngby Hage near the Dyngby Beach summer house area. Here, there is a large reef with pebbles and mussels that often attract fish. Particularly, spring fishing is excellent, while summer fishing requires shallow water and a good current to venture further out and fish in deep water. There is a particularly good fishing hole on the right side of the reef.
There are good chances of catching garfish, sea trout, and plaice. The latter are caught in easterly winds—best at high tide and sunset. Additionally, there are good chances of eel and cod as by-catch.
It is recommended to walk to Dyngby from Saksild or Hølken as there is no public parking at Dyngby.
Fishing at Kysing
North of Saksild and Rude lies Kysing, where Odder Coast's fine sandy beach transitions into a more rocky shoreline. Both at Kysing Beach and near the headland Kysing Næs close to Norsminde Harbour, there are excellent fishing opportunities. Kysing Næs is perhaps the most popular fishing spot in the local area, while it's a bit more peaceful at Kysing Beach.
You can find more information about the individual spots around Kysing and Norsminde on this page.
Other fishing spots in the area
There are many other wonderful, productive fishing spots in this part of the eastern Jutland coast. On the Odder Coast, you will also find several excellent fishing spots around Hou.
On this page about coastal fishing in the Coastal Land, you can find inspiration for choosing a fishing spot on the eastern Jutland coast.
Fishing stays in Saksild Bay?
On this page, you can find inspiration for accommodation, eateries, activities, and more around Saksild.
Need the right fishing gear?
Effektlageret is the largest provider of fishing gear in the local area. In addition to a large webshop, Effektlageret has a physical store in Horsens with a wide selection for any type of fishing.
Destination Kystlandet © 2023