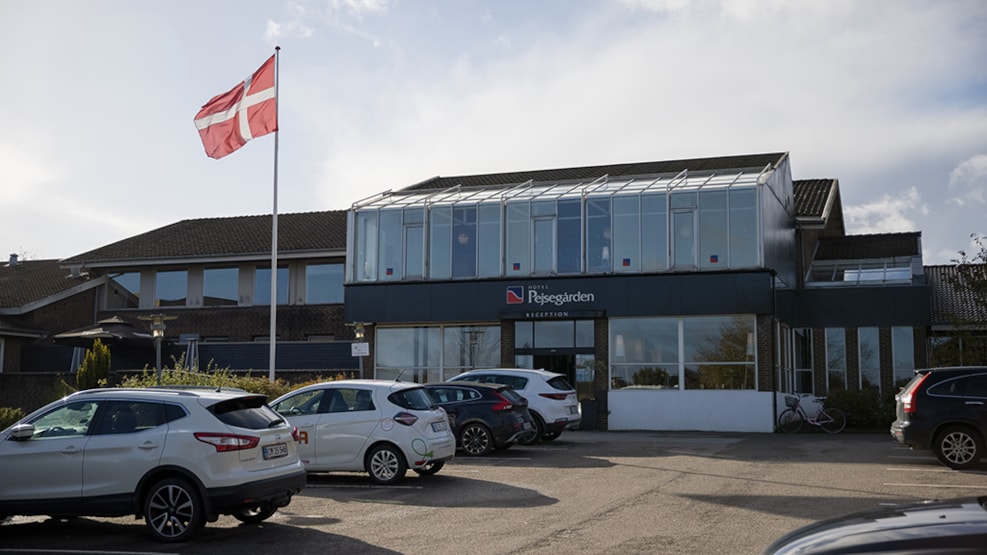 Hotel Pejsegården
Get in the pool or relax in the sauna. This hotel in Brædstrup An outdoor playground for the kids, and a bowling alley and arcade games inside. With only a short distance to the Uncovered Bridge and the river Gudenå, this is a good setting for a bicycle, canoeing, fishing or hiking holiday. The hotel also has two restaurants.
Lovely hotel in Brædstrup
Hotel Pejsegården is a cosy, family-owned hotel located between Horsens and Silkeborg. At Pejsegården you can look forward to a homely atmosphere, a present service and comfortable rooms that accommodate your every need.
Regardless of whether you are on the road for an important business trip, if you are on a relaxing weekend stay with the one you love, or you are on a holiday with the whole family, then the hotels good rooms and great facilities will host the experience of your dreams.
Fantastic and peculiar facilities
A stay at Pejsegården is more than just a night's sleep. The hotel offers a cavalcade of indoor facilities – each of them an experience of its own.
Go for a ducking in the pool and combine with the sauna or a tanning bed.
When you are looking for some fun then go and compete at Pejsegården's own bowling alley or a game of air hockey, billiards or pool. And there is also a big amusement hall with more than 30 machines.
Add to this a rotating bar and two restaurants.
Stays at Hotel Pejsegården
Pejsegården has more than 100 rooms that can all be used as single- or double rooms. Every room has its own bathroom, living room furniture, a desk, and a television. The hotel has its own parking lot where you can recharge car battery.
All guests get access to the hotels lavish breakfast buffet. Pejsegården has many options for stays tailored to you and your needs. You can come here for a weekend stay or as your base on a family holiday in beautiful nature.
Pejsegården cooperates with some of the best golf clubs in Denmark, all located nearby and offers golf breaks.
You can also choose Pejsegården as a setting of your bicycle holiday. The hotel is Bed + Bike certified which is your guarantee of facilities and equipment tailored to cyclist needs. Pejsegården is located in an amazing bicycle terrain with deep nature and lots of hills.
The legendary Pejseshow
In Denmark, Hotel Pejsegården is probably best known for their annual revue, Pejseshowet, where some of Denmark's best entertainers are ready to entertain you. The show is on schedule every Friday and Saturday during fall.
About Brædstrup and Bakkelandet
You will find Brædstrup on the halfway between the two bigger cities Horsens and Silkeborg. Brædstrup is going through a very positive development with surprisingly good shopping options, a charming centre and a cosy park.
The popular hiking- and bicycle route the Nature Path Horsens-Silkeborg goes through town. If you follow it for a few kilometres you will reach one of Denmark's most popular nature attractions, the Uncovered Bridge.
The area around Brædstrup is called Bakkelandet (the hill lands). The lovely nature in Bakkelandet is perfectly suited for a long range of outdoor activities. Here, you will find Denmark's only river Gudenåen, lots of lakes and Denmark's highest points.
Destination Kystlandet © 2023